How Do I Become a Senior Civil Engineer?
A senior engineer has experience in the world of engineering, so to fulfill this role, it is first necessary to obtain and education and experience in the workplace. Civil engineers generally work on infrastructures such as roads, bridges, and tunnels, which means that it is also necessary to have an interest in working on these types of projects, as well as an aptitude for the complex mathematics and sciences that go along with it. A bachelor's degree is generally the minimum educational requirement necessary to become a senior civil engineer, but a master's degree can help you move into the field more quickly.
Construction, consulting, and industry are some of the areas senior civil engineers can work in. The career path for each of these fields begins similarly: by obtaining a bachelor's degree in civil engineering. In order to do this, it is helpful to take courses in advanced mathematics and sciences while still in high school. Upon the approach of high school graduation, you can begin to apply to colleges and universities that have an accredited program in civil engineering. Once you are accepted, you can begin to take the classes needed to graduate with a degree.
Once you complete an undergraduate degree in civil engineering, it is necessary to decide whether to enter directly into the field or whether to continue your education. A master's degree can provide an edge when applying for jobs in the field, lead to more advanced research opportunities, and give you more time to network. It is important to have workplace experience to become a senior civil engineer, so directly entering the field as an assistant engineer is also an option. Other possible entry-level jobs that can help you become a senior civil engineer include field engineer, construction project manager, and independent consultant.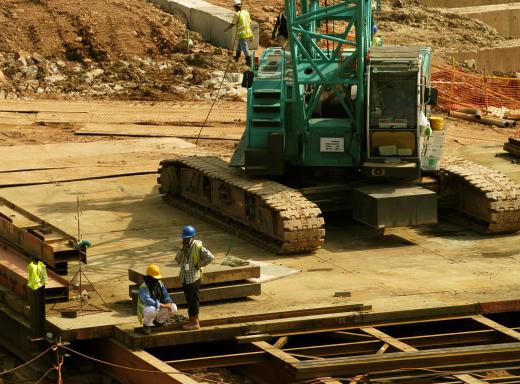 After you have an entry-level job in civil engineering, you should begin to work your way to a more advanced position. This is done by being a responsible hard worker, as well as taking opportunities to network with senior executives in your field. To become a senior civil engineer, you will need to prove that you are capable of handling leadership responsibilities. This is mainly done through on-the-job training and looking for new opportunities within your organization as they arise. A good way to show top executives that you can handle a project is to volunteer as a project leader as many times as possible.
AS FEATURED ON:
AS FEATURED ON:
By: Aania

Civil engineers often work on infrastructure projects, such as bridges.

By: Jingling Water

Becoming a construction project manager might be a good first step toward becoming a senior civil engineer.

By: bibi

Experience with a wide variety of projects is often necessary to become a senior civil engineer.

By: Damian Gretka

Senior civil engineers typically have more experience planning projects than junior workers.