What does a Pharmacy Clerk do?
A pharmacy clerk is engaged in work related to pharmacy service, whether as an assistant to the pharmacist directly or to one or more pharmacy technicians. For this reason, the job title is often synonymous with pharmacy aide. The clerk generally performs clerical duties, which may involve a broad spectrum of tasks, including running the cash register to ring up purchases, stocking shelves, and fielding questions that come from customers telephoning the pharmacy about their medications to the appropriate staff.
Another duty that may fall under the job description is record creation and management. For instance, they may be asked to create a patient file whenever a new customer receives a prescription from the pharmacy. They may also maintain and update files accordingly. Accurate record keeping is vital for several reasons, most notably to help avoid harmful drug interactions from occurring, but these records are also needed to facilitate payment for prescription drugs and other services from third-party insurance providers.
In addition to stocking shelves with new products received, the pharmacy clerk may be required to take a periodic inventory of existing stock. Again, there are several good reasons for taking care in producing accurate records in this area. For one thing, retail pharmacies are often targets of theft, making strict inventory control necessary in order to reduce "shrinkage." This process also ensures that the pharmacy doesn't run low or completely out of commonly needed over-the-counter medications and supplies, such as aspirin and ace bandages, for example.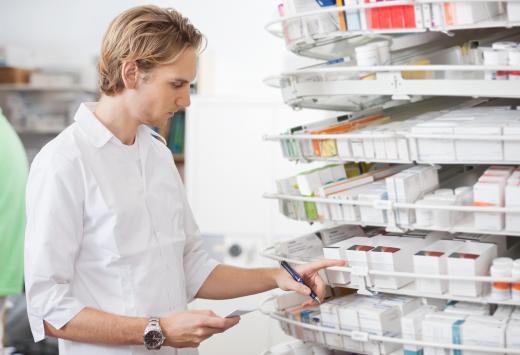 Employment as a pharmacy clerk is most often found in a retail pharmacy, but there are also jobs available in some department stores, grocery stores and, of course, in hospitals. Some of the larger pharmaceutical manufacturers that retail or wholesale also hire clerks. In any case, the hours that come with the job tend to be long, especially with pharmacies that are open 24 hours a day. Clerks also typically work evenings, weekends, and even holidays.
For the most part, becoming a pharmacy clerk involves on-the-job training rather than specialized education. Part-time positions are often given to students who are still in high school. Furthering a pharmacy career from clerk to technician or even pharmacist will require a high school diploma or the equivalent, as well as additional certification and formal training. The most successful candidates for this position have excellent organizational, communication, and customer service skills. It should be noted, however, that anyone with a history of substance abuse or a criminal record involving the sale or possession of illegal drugs is not eligible.
AS FEATURED ON:
AS FEATURED ON:
By: Robert Kneschke

Pharmacy clerks keep track of customer records and supply orders.

By: Tyler Olson

Pharmacy clerks stock shelves and inspect medicine packaging for signs of tampering.

By: Zsolt Bota Finna

Medications at a pharmacy.

By: Deklofenak

A pharmacy clerk may be responsible for running the cash register.

By: HconQ

Employment as a pharmacy clerk is most often found in a retail pharmacy.