What does a Supply Chain Analyst do?
A supply chain analyst helps a company improve the efficiency of its shipping procedures. Some analysts are primarily consultants who observe operations, report their findings, and make suggestions on how to improve shipping strategies. Others perform more hands-on duties such as checking warehouse inventories, building orders, and directing logistics. All focus on enhancing logistics and ensuring distributors and customers receive accurate, timely orders.
Warehouses and stock rooms owned by large corporations can be busy, confusing places. A supply chain analyst is responsible for keeping things organized and easy to find when an order is placed. He or she regularly checks inventory and helps warehouse personnel develop the most efficient strategies for gathering and boxing products. The analyst also researches supply and demand statistics to make sure the correct quantities of each product are available.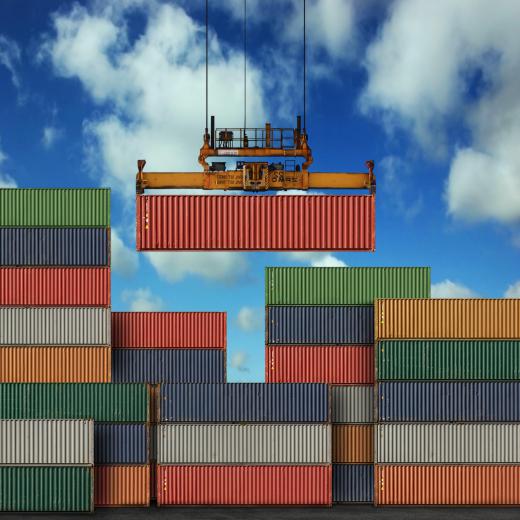 Supply chain analysts coordinate with shipping supervisors to make sure orders are ready to go out when transport trucks arrive. Once shipments leave a facility, an analyst tracks their delivery to confirm that they reach their destinations in a timely manner. If an order turns out to be incorrect or incomplete, the analyst corrects the mistake and tries to find out what went wrong in shipping.
Companies also rely on analysts to determine if their current logistics plans, computer systems, and shipping procedures could be improved. Analysts study current techniques and research other options to decide how to improve services. If a new system is put in place, an analyst may be responsible for providing training for managers and shipping clerks.
Many supply chain analysts hold bachelor's or master's degrees in business administration, but a degree is not always necessary to obtain a job. Employers usually value several years of practical experience just as highly as education. A person who wants to become a supply chain analyst can develop the skills needed in retail, merchandising, and inventory clerk positions. Strong computer skills are very important as well, so people with backgrounds in software engineering or data mining are at an advantage when applying for analyst positions.
With experience, a supply chain analyst generally has many advancement opportunities. A professional may be able to become a supply chain manager, overseeing other analysts and working closely with managers from other divisions to maximize business efficiency. Some analysts also become logistics engineers or executives within their companies with continuing education and ongoing success in supply chain operations.
AS FEATURED ON:
AS FEATURED ON:
By: Binkski

A supply chain analyst may study the speed with which intermodal containers are moved in a transportation system.

By: adisa

Supply chain analysts might look at different markets to determine viable locations for new stores.

By: Monkey Business

A supply chain analyst may recommend automated software and a barcode scanner to track stock and place orders when needed.

By: Tyler Olson

A supply chain analyst often has extensive hands-on experience in the procurement field.

By: endostock

A supply chain analyst may be responsible for checking warehouse inventories.

By: anekoho

A supply chain analyst may be responsible for developing efficient strategies for warehouse personnel.