How Do I Become a Biokineticist?
Biokineticists are individuals who help people to improve their physical conditions by recommending exercise programs that meet their particular needs. These professionals can work in personal training or even corporate fitness. A person who seeks to become a biokineticist needs to complete four years of training beyond high school in both a classroom and lab setting. He or she also should finish two years of graduate school and complete an internship to gain practical industry experience.
If you want to become a biokineticist, you need to complete a four-year degree in an area such as athletic training or exercise science. To get into this type of training program, you must complete your potential school's admissions form and turn in your high school diploma or the equivalent certification. You additionally have to provide a copy of your high school transcript along with your most recent standardized test scores.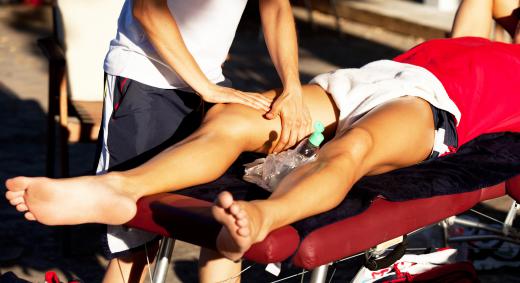 Courses that cover exercise and human health provide you with the foundation you need to enter this industry. You should take a class on medical terminology so that you understand the language of healthcare professionals with whom you likely will interact when you become a biokineticist. In addition, classes on developing specialized exercise programs and physical fitness tests will prepare you to work with clients. Classes additionally teach you research methods used in biokinetics to measure physical performance of people in various aspects of the exercise science field.
An undergraduate training program typically requires students to complete laboratory assignments as well. While in the lab, you need to practice monitoring equipment such as treadmills used for exercising purposes as well as ergometers, which are devices that measure how much work a person does — or how much energy he or she expends — when he or she exercises. Your goal should be to help to determine a person's level of health as you train to become a biokineticist.
Completing graduate school and an internship increases your employment opportunities in this career area. A master's degree program typically lasts two years and covers advanced concepts related to fitness activities and sports nutrition. You might have to complete a major original research thesis project or take part in an internship that gives you hands-on experience in a real-world setting before you can graduate. Your school's career services department should then be able to help you to locate companies that are interested in hiring someone who wants to become a biokineticist.
AS FEATURED ON:
AS FEATURED ON:
By: wellphoto

Some biokineticists learn to perform sports massages and other techniques to add value to their services.

By: Mat Hayward

A biokineticist may work as a personal trainer.

By: laviejasirena

An undergraduate training program for a biokineticist typically requires students to complete laboratory assignments.