How do I Become a Police Officer?
Some individuals decide to become police officers when they are very young, while others come to the realization later. Either way, there are number of steps to be taken if someone wants to become a police officer, and the earlier you get started, the better. A career in public service can be diverse, challenging, and fulfilling for those who are able to make it through the highly competitive process. Opportunities in law enforcement are incredibly varied, from urban police to rural sheriffs.
If someone wants to become a police officer, he or she should start with education. Police departments require a basic high school education, and additional training such as an Associates or Bachelors degree is recommended. A number of colleges offer criminal justice programs for individuals interested in becoming a police officer. Most of these programs involve education in human behavior, legal issues, computer systems, and a variety of other subjects which assist law enforcement officers. The more advanced your training, the more successful your application as a police officer will be. This training will also serve you well in the field.
Policing requires a high state of physical and moral fitness. Participating in organized sports will condition your body and also serve you well as you apply to a police department. Police officers must also pass a background check, and people with extensive traffic violations, drug convictions, or other indiscretions will likely be rejected. To be accepted as a police officer, you should use common sense, and avoid getting involved in potentially illegal or dangerous situations.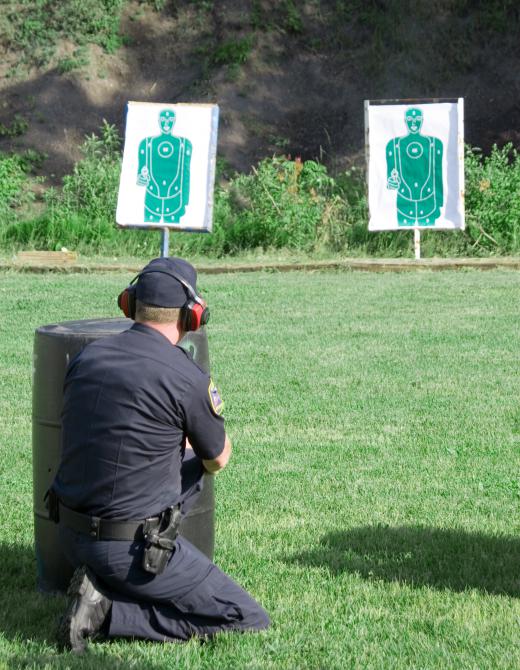 When you are ready to apply to a police department, you will have to sit for the civil service examination. The civil service exam is administered through the police department you are applying to. If you are concerned about the examination, many companies offer study guides which can help you get a higher score. The civil service exam is offered whenever a department has openings, and some departments also offer it on a regular basis to establish a pool of eligible recruits.
You will also take a physical exam which tests agility, strength, vision, and hearing. If these tests are passed successfully, you will take drug and lie detector tests and began a series of interviews with the police department. If accepted, you will be sent to the police academy, a program which ranges from three months to one year. The police academy will prepare you fully for your job as a police officer.
Police officers are expected to pursue continuing education as well, and attend yearly seminars and workshops to this end. The law enforcement community must constantly adapt to changing needs, and this ensures that police officers are updated on current legal procedure and cultural sensitivity. Advanced training allows police officers to better serve the communities they work in, and to retain their edge as law enforcement professionals.
In some states, it is possible to attend a police academy without being affiliated with a specific police department. If you are unsure about the area in which you would like to work, you can attend the police academy first and then apply into police departments as a fully trained police officer. With a growing population come growing demands on law enforcement, which translates into increased opportunities for individuals interested in a career in law enforcement. Pursuing your dream of becoming a police officer can be a lengthy process, but well worth it at the end.
AS FEATURED ON:
AS FEATURED ON:
By: West Midlands Police

Police officers may be called upon to perform foot patrols.

Police officers must undergo firearm training.

By: Lisa F. Young

A police officer must be able to write clear and concise reports.

Police officers must be proficient drivers.

Kevlar® bullet-proof vest.

By: Monkey Business

Police officers might have to break up a fight.