What Are the Different Types of Academic Qualifications?
Academic qualifications include vocational diplomas, undergraduate degrees, professional certifications, graduate and professional degrees. Some countries award college degrees with distinction or honors for those who graduate with a high grade point average. Degrees and diplomas may be required for certain types of professions and positions. They tend to represent knowledge and practice in a particular subject area or field.
Most individuals obtain academic qualifications to prepare for a career in a specific field. Some types of positions require or prefer candidates with an associate's degree or vocational diploma. These types of qualifications are typically awarded upon successful completion of post-secondary courses and take a year and half to two years to earn. Educational programs that result in these diplomas consist of courses at the undergraduate or non-advanced academic level.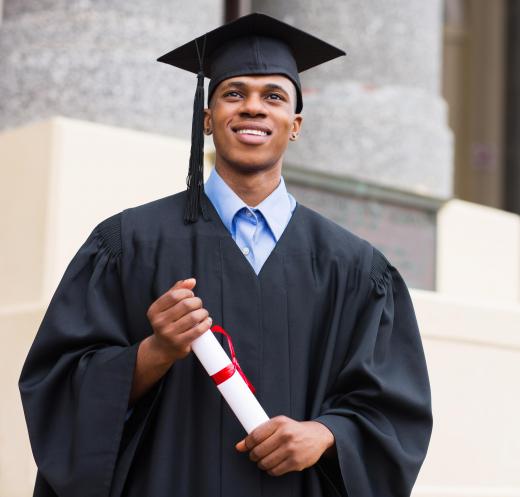 One of the most common types of academic qualifications is the bachelor's degree. The majority of these degree programs take a minimum of four years to complete and are usually grouped by discipline type. For example, a bachelor's degree in English or anthropology is conferred as a Bachelor of Arts (B.A.) degree, while a program in business administration or oceanography is conferred as a Bachelor of Science (B.S.). Many universities offer honors programs that challenge undergraduate students with advanced courses, which may lead to earning a bachelor's degree with honors.
Following the completion of a bachelor's degree, individuals may want to pursue an advanced degree in order to change careers or advance within an existing field. A master's degree is one of the types of advanced academic qualifications and usually takes two years to complete. Besides full degree programs, graduate level or professional certification programs are also an option. Certifications tend to focus on a very specific discipline, such as tax law or project management.
A master's degree, such as the Master of Business Administration (MBA), often qualifies individuals for executive level management positions. These degrees differ from their undergraduate counterparts in that they mainly focus on research, case studies, and projects where students put concepts and theories into practice. Most students develop a master's thesis or final project that demonstrates their skills in the degree's discipline. For example, a student obtaining a Master of Fine Arts (M.F.A.) in creative writing may produce and present a full-length novel that is of publishable quality.
In some countries, the doctorate or Ph.D. program is considered to be the highest degree in academia. It is one of the most advanced types of academic qualifications and can take two to three years beyond a master's degree to complete. The doctorate degree focuses mainly on research and is sought after by aspiring university professors, medical researchers, and education administrators. Other advanced professional degrees include the Juris Doctorate (J.D.) or law degree, the D.D.S. or doctorate of dental surgery, and the M.D. or medical doctor designation.
AS FEATURED ON:
AS FEATURED ON:
By: michaeljung

One of the most common types of academic qualifications is the bachelor's degree.

By: yanlev

An individual may obtain academic qualifications in order to become a teacher.