How Do I Become a Building Technician?
To become a building technician, you need to have expertise in construction laws and the processes involved in constructing a building. The type of education required to become a building technician may be anything from a high school diploma to a bachelor's degree. Construction knowledge through training or past work experience will improve job opportunities. This job is a good starting point for pursuing a career in the engineering, architecture, surveying, or construction. A building technician may work on-site at construction projects or at a local county or regional office.
While a college education may improve your chances of finding a job in this field, a degree may not be necessary for those wanting to become a building technician. Some of these entry-level positions require only a high school diploma, GED (general education diploma), or experience in the construction industry. Taking a training course at a local technical school or earning an associate's or bachelor's degree in construction management, construction science, or building construction will certainly increase your opportunities in this industry. More education may lead to more responsibility and faster advancement into higher management and supervisory positions.
For those wanting to become a building technician, a working knowledge and past experience with building construction is necessary. The skills required for this job range from hands-on work to management responsibilities. Hands-on skills include the ability to operate a number of different power tools and construction equipment. Other skills required are the ability to read and translate blueprints, building schematics, electrical diagrams, plumbing diagrams, and any other type of technical drawings. A commercial driver's license or a special license allowing operation of heavy equipment and other construction vehicles may be required.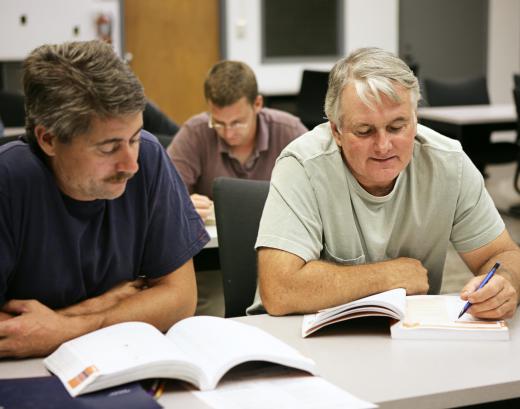 As a building technician, you might work at a single construction job site, traveling between several building sites on different construction projects, or at an office that maintains oversight over a particular area or region. Work responsibilities include the supervision of contractors and sub-contractors, either on-site or off-site. Building technicians may also estimate costs, prepare cost estimate presentations, negotiate for purchasing building materials, check the overall quality of suppliers, and monitor progress over several different building sites. Off-site or on-site, building technicians serve as the critical link between management and labor on most building and construction projects.
AS FEATURED ON:
AS FEATURED ON:
By: twixx

Hands-on experience and skills are important for a building technician.

By: Lisa F. Young

Taking a training course at a local technical school can increase an individual's opportunities as a building technician.