How do I Become a Butcher?
A butcher is a person whose job it is to prepare meat in some way for sale. People want to become a butcher for different reasons, but it usually stems from a love and appreciation for fine meats. Many also find it to be a very rewarding career at a community level, as working at a meat counter involves interacting with the public on a daily basis, and helping them to discover new meats and to increase the pleasure they get from the cuts you give them. There is no formal certification or education needed to become a butcher, as it is a vocational trade.
While some butchers may find it beneficial to attend some sort of formal culinary school, to gain a deeper understanding of how meat may be used, this is by no means necessary. Some of the most skilled and renowned butchers have no formal education beyond that of high school, having learned their trade at the chopping block.
There are two similar, but slightly different, paths to become a butcher. One is through a formal apprenticeship program, and the other is through on-the-job training. The first is ideal for people who know that they want to pursue this job in the long term, perhaps to open their own shop or to work at a high-end store, while the second is suited to those who want to get a job immediately. Both have their strengths and weaknesses, and in the modern world, on-the-job training is a much more common path.
Three areas can be worked on before or during training, without having to actually be working with meat. One is simply building muscle and endurance for the job. Being a butcher requires a great deal of heavy lifting, as carcasses can be massive, and the steady chopping and sawing requires a great deal of upper-body strength. Building up the necessary strength before beginning will make the work substantially easier, and allow you to focus on learning, rather than being exhausted.
Another area that can be developed before starting training is hand-eye coordination. Butchers make use of very sharp tools in their work, and are often moving quite quickly. While tools have become much safer, and much easier to get thin or otherwise ideal cuts of meat from, hand-eye coordination still is a valuable skill. You can also study the basics and theory of butchery long before getting on-the-job training. Books on the subject can teach you all about different meats and cuts, how best to cut, and even storage and cooking techniques that you can use and pass on to customers.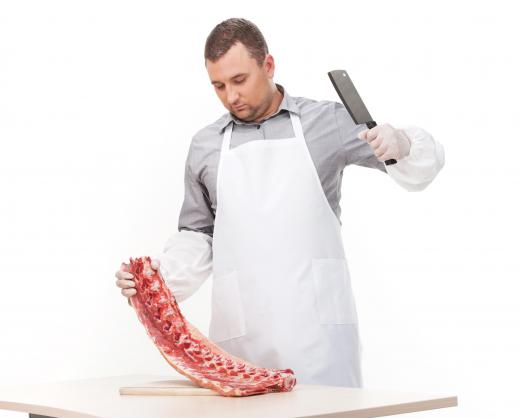 Getting a union apprenticeship can be a difficult task, and the best way to see whether it is feasible is to find the butcher's union in your region and approach them with your interest. Getting on-the-job training can be easier, as it means simply finding a job opening and beginning work. For the first few months, or even years, you may be doing simple, repetitive tasks, but as you prove yourself, you will likely advance and eventually become a butcher.
AS FEATURED ON:
AS FEATURED ON:
By: Mirko Milutinovic

A butcher must be familiar with all the different cuts of meat.

By: contrastwerkstatt

Interacting with customers is a large part of the butcher's daily routine.

By: Christophe Fouquin

Many grocery stores employ their own butcher.

By: BlueSkyImages

Butchers use sharp tools and move rather quickly, so having good hand-eye coordination is essential to become a butcher.

By: aboikis

Apprenticeships teach young butchers skills such as making specialty sausages from low quality cuts of meat.