How Do I Become a Casting Agent?
Sometimes called a casting agent, a casting director is an important member of the entertainment industry. If you become a casting director, you will be in charge of spotting talented actors and placing them in the perfect roles. There are a variety of skills you must possess in order to deal with people such as television and move production teams, the actors and other agents. When you see the finished product, you will be able to take pride in your hard work and the decisions you made.
There are few educational requirements to become a casting director. Some studios or theater companies require a high school diploma or bachelor's degree, but it is rare. That does not mean education cannot be useful, because drama, theater and business courses are all employed daily for this job. Anything that strengthens your ability to understand what makes a good actor and how to run an organized business will be essential to your success.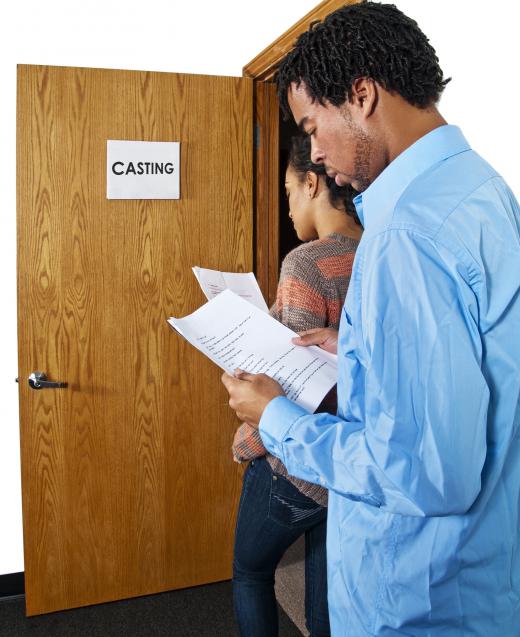 There are numerous skills needed if you want to become a casting director. The top skill-- talent evaluation-- is one that can be developed over many years of working with directors, producers and actors. Seeing an actress' ability to play everything from an anonymous extra to a leading lady is something that comes with experience. Communication also is a key skill you must possess, because it helps you discover what a production team needs in terms of actors and helps you learn to communicate with actors about what you want. Organization is another important skill, because you likely will be handling several projects at once, each with potentially dozens of roles and hundreds of people trying out for parts.
If you become a casting director, your jobs will always revolve around a production. Whether for an off-Broadway theater play or a multi-million dollar blockbuster, you will be on the front line of creating a cast by reading the script and talking with the director and producer for casting insight. Next, you set casting appointments by contacting agents and posting the opportunities. A casting call is like a job interview, during which you ask actors some background information and have them recite lines. Based on the casting call, you then choose actors to fill the available roles and inform the production team.
If you become a casting director, you can be involved in many different aspects of the entertainment industry. A casting agency is a popular workplace and is hired out by studios to handle the casting when they do not want to do it in-house. Broadway casting lets you evaluate actors who would be qualified for stage plays and musicals. Television casting and movie casting usually have a different set of standards for those who will be acting in front of cameras.
AS FEATURED ON:
AS FEATURED ON:
By: Innovated Captures

Casting directors usually find actors who fit the director's artistic vision through casting agents.

By: oneinchpunch

A good casting agent recognizes talented actors and places them in the perfect roles.