How do I Become a Choir Director?
A choir director can work in many capacities to create, rehearse, and conduct a choral singing group. There are many ways to become a choir director, most relying first on a deep love and understanding of music. Choir directors can work with churches, schools, or independent musical organizations in part time or full-time capacities.
In order to become a choir director, a person must have a clear understanding of choral music. This is often learned through formal education, first as a performer, then as a conductor and director. Directors must not only be able to sing and read music, they must also understand the principles of harmony and musical theory.
Many choir directors study music education as part of a university degree program. Colleges may offer both undergraduate and graduate degrees in the subject, which typically requires a combination of theoretical study, musical proficiency, and practical work. A degree in music education may enable a director to seek work as a school choir or band director, although additional teaching degrees may be required.
Although a teaching certificate is required to work at most public schools, many private institutions will hire choir directors without a degree as long as they possess demonstrable skill and experience. Working as a choir director for a school, whether public or private, can be an extremely rewarding career for those who enjoy teaching and developing a love of music in young people.
Not every person who decides to become a choir director comes from a background in music education; some composers and performers find themselves drawn to the career for a variety of reasons. Although trained teaching skills can be highly valuable skills for choir leaders, an ear for music can be equally important. Some valuable technical skills that a good director must possess include the ability to read music, an accurate ear for correct pitch, an understanding of the principles of composition, and the ability to blend and balance vocals to achieve an even sound from all choir members. Many choir directors also have some experience with pianos, so that they can serve as a rehearsal accompanist for the choir.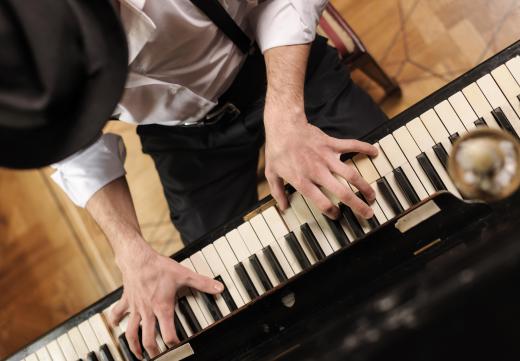 It is also possible to become a choir director at churches and other places of worship that feature a choral music program. These jobs usually require a few hours of commitment per week, but be on a volunteer basis or offer only a small stipend. Choir members are typically parishioners with widely varying ability levels. To find out more about how to become a choir director in church, speak to the parish minister or music director to clarify the musical needs of the parish.
AS FEATURED ON:
AS FEATURED ON:
By: Ken Hurst

Choir directors are responsible for conducting a choral singing group.

By: Sinisa Botas

Choir directors can work with churches, schools, or independent musical organizations in part time or full-time capacities.

By: bst2012

Choir directors without degrees in music may be hired if they can demonstrate needed skill and experience.

By: BlueSkyImages

Many choir directors have experience playing the piano.