How do I Become a Clinical Pathologist?
To become a clinical pathologist in the United States, you need to have an extensive education. To start, you need to have a bachelor's degree, preferably in a life science, such as biology. If at all possible, you should enroll in a pre-med program while you are an undergraduate, so that you can be sure you are taking the proper courses for gaining admittance to medical school. If you want to become a clinical pathologist once you are finished with medical school, you need to be an M.D., or Medical Doctor, or obtain a PhD., or Doctor of Philosophy degree, in Pathology. You should also be board certified in the states in which you want to work, once you have completed school.
In order to be a good candidate for this type of work, you need to have exceptional communication skills. You must be proficient at writing, so that you can convey your thoughts properly when creating reports, letters, or emails. You should also have the ability to speak to others in a manner that is easily understood, particularly by those who are not medical professionals. In many jobs, you could be expected to make formal presentations on occasion, so it would be helpful if you are comfortable speaking to large groups of people.
If you want to become a clinical pathologist, you should have an aptitude for working in conditions that could be quite stressful. Excellent candidates for this type of job are those who work well under pressure, and have the ability to meet tight deadlines with ease. Great expectations may be placed upon you by your employer, so you need to have the type of personality that is flexible and easily adaptable to demands that may be continually changing. You may also be placed in charge of reviewing complaints about other physicians or testing. Some professionals within this field tend to feel a bit overwhelmed at times, simply due to the multitude of responsibilities placed upon them.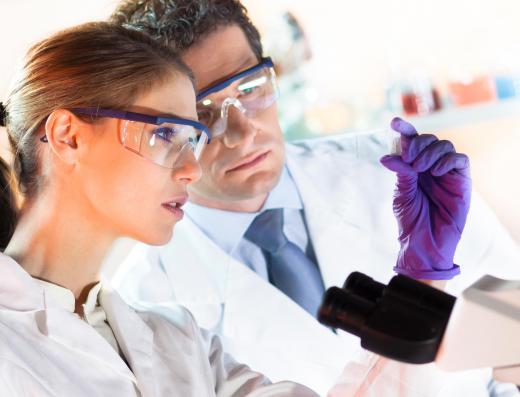 You should be computer literate in order to function well in this profession. For the most part, you will be required to enter a variety of different types of information into software systems that have been specially designed for medical professionals. If you are comfortable working with computers, you should not have any difficulties adapting to your work environment. To become a clinical pathologist and be successful, you may be responsible for supervising other workers, so having strong leadership skills is also beneficial.
AS FEATURED ON:
AS FEATURED ON:
By: nandyphotos

A pathologist specializes in diagnosing disease through the examination of tissue samples from the body.

By: kasto

Clinical pathology programs typically include supervised, hands-on experience in a medical or clinical laboratory.

By: Tyler Olson

A clinical pathologist should be prepared to work in stressful conditions.

By: spflaum

A bachelor's degree in biology can help an individual become a clinical pathologist.

By: michaeljung

An aspiring clinical pathologist will need to attend medical school.

By: oneblink1

Pathologists may analyze tissue samples collected by doctors.