How do I Become a Commercial Fisherman?
Working as a commercial fisherman involves long hours working in what can be very hazardous conditions. At the same time, it is an excellent way to establish your own business and have control over how your workday is arranged. If the benefits strike you as outweighing the liabilities connected with this line of work, you'll need training and licensing, in some places, to become a commercial fisherman.
The majority of the practical experience you'll need takes place on the job. Many people entering this profession work as deck hands at first, providing them with the chance to observe the basics of the trade, then slowly take on additional responsibilities as they develop a familiarity with the equipment, methods, and environment inherent in the work. This is also an excellent opportunity to determine if a commercial fisherman job is really what you want without making a major investment of time and resources.
Depending on your local regulations and the type of position you want, it may be necessary to obtain a commercial fisherman license. Positions such as the captain and first mate often require formal licensing, and boatswains and entry-level deck hands sometimes must secure what is known as a merchant mariner's document in order to legally work within the industry. Often, the focus is on the general health of the applicant, both physically and emotionally. Different jurisdictions may require basic knowledge of operating a vessel, as well as obtaining seasonal permits that define when and where the fisherman may ply his trade. In some areas, it is necessary to be a high school graduate or hold a GED equivalent, although this is not a universal requirement.
Larger fishing companies sometimes sponsor training programs for their new hires. The coursework often includes basic knowledge, such as vessel operation and navigation, first-aid strategies, and general seamanship. Other options include sending new hires to industry-approved courses conducted by state or federal agencies. Today, even many of the smaller companies require their new hires to attend short-term training at local trade schools or community colleges before assigning them to an active crew. This is often a constructive approach, as it allows the applicant to get a taste of what is needed to become a commercial fisherman before ever setting foot on a vessel.
Because of the hierarchy involved with commercial fisherman jobs, advancing in this career takes time, effort, and a demonstrated ability to perform under pressure. After starting as a deck hand, anyone demonstrating the ability to remain calm under stressful circumstances and effectively lead a team is likely to be promoted to the position of boatswain, or bo'sun. Bo'suns, in turn, may advance to becoming a first mate on a fishing vessel and over time, first mates may qualify to captain their own vessels. This process often takes years, you need to think about whether or not you have the patience required to make this incremental progression through the ranks.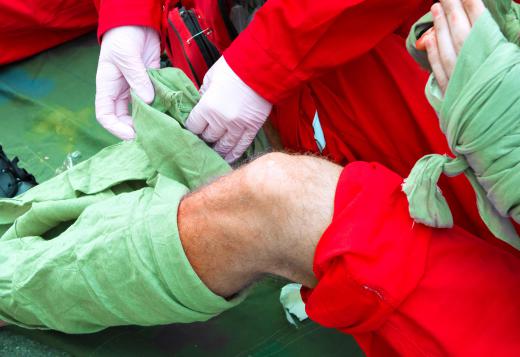 There is no doubt that the decision to become a commercial fisherman is just as serious as entering any other career. The long hours during fishing seasons, coupled with being away from home for weeks and sometimes months at a time, and the sometimes hazardous working conditions make this a career option that is not for the faint of heart. People who enjoy the fresh air, the challenges presented by the sea, and the considerable physical and mental efforts required to be successful often find commercial fishing to be a way of life that brings satisfaction in a way that nothing else can match.
AS FEATURED ON:
AS FEATURED ON:
By: B. Wylezich

Most commercial fishermen begin as deckhands, learning the tools of the trade, and slowly take on more responsibility as they grow more comfortable with the methods and equipment used.

By: nito

People who enjoy fishing, the fresh sea air, and the mental and physical demands required by the industry will thrive as commercial fishermen.

By: Paul Hamilton

A commercial fishing boat.

By: overcrew

Commercial fisherman should have first-aid training.