How Do I Become a Construction Foreman?
A construction foreman basically is a first-line construction manager who supervises a crew of workers in a specific craft or trade. You can become a construction foreman by learning a construction craft or trade, demonstrating superior knowledge of the craft or trade, showing strong leadership skills and working your way up the ladder. After gaining a high school diploma, attend a vocational or technical school, acquire on-the-job training with a construction industry employer or join an apprenticeship program in order to begin your journey to becoming a construction foreman.
To decide which path to take to become a construction foreman, you might first decide what trade you would like to learn and what area of construction you'd like to work in. If you wish to become a carpenter, for example, consider whether you want to construct houses and other buildings or work in road and highway construction building bridges, tunnels or other large structures. To find vocational and technical schools that teach specific trades, contact building trade organizations, such as The Associated General Contractors of America, if you are in the United States, for information on training programs. You can also contact local colleges in your area to see what kind of trade programs or classes they might offer and search online for programs.
Another way to join the industry and work your way up to the job of construction foreman is to hire into a construction company as a general laborer. Laborers assist skilled workers in all facets of construction. They learn on the job, often starting out literally digging ditches before progressing to a specific trade. One advantage of taking this path in your quest to become a construction foreman might be the opportunity to experience learning about a variety of trades before committing to one. Look for construction employers advertising for general labor if you are interested in pursuing this path.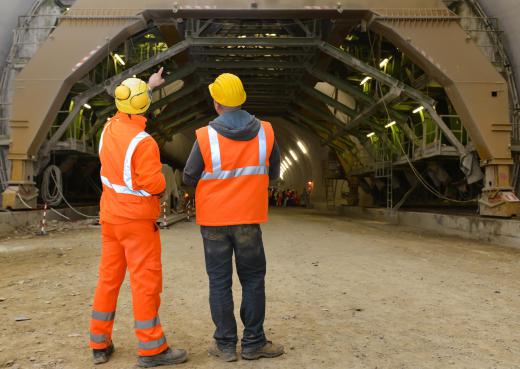 Apprenticeship programs provide the opportunity for you to work side-by-side with expert craftsmen and tradesmen and be trained in the trade or craft. Apprenticeship programs are jointly sponsored by labor unions and construction employers or by individual employers with the goal of training skilled workers. A worker in these programs progresses up the ladder to journeyman or construction craftsman as his or her skills increase, and those roles are jumping off points for someone who wants to become a construction foreman. Contact local construction trade unions, employers and governments for more information on these programs.
General skills and abilities to have if you want to be a construction foreman include good math skills and reading skills, which will help you calculate measurements, read blueprints and produce reports. Being able to adhere to a schedule is very important, because all construction projects have schedules that must be met. Having a teamwork mentality is important, because no matter what you are building, you usually will do it in conjunction with other workers.
Don't be fooled by the term "foreman" into thinking that the job is only for men. While men do make up the majority of positions in this field, a woman also can become a construction foreman. The term "foreman," which originated when only men were found on construction sites, often is used generically today to describe the position rather than the sex of the person performing the job. Sometimes a woman in this role will be referred to as a "forewoman."
AS FEATURED ON:
AS FEATURED ON:
By: JackF

A construction foreman supervises a crew of workers.

By: viappy

A construction foreman must show strong leadership skills.

By: Andreas Karelias

A construction foreman may start out as a general laborer.

By: ndoeljindoel

An aspiring construction foreman must have strong leadership skills.

By: Christian Delbert

A construction foreman should have a high school diploma, followed by vocational school and on-the-job training.

By: Halfpoint

A construction foreman may be responsible for reporting workplace injuries.

By: dbvirago

A construction foreman may be in charge of a road crew.