How Do I Become a Cosmetic Dentist?
The path needed to become a cosmetic dentist involves formal education, successful performance on licensing examinations, and self-guided continuing education in cosmetic dentistry. Since very few regions allow educational specialization in cosmetic dentistry, a person will need to find alternative training and fellowship opportunities in order to master the skills needed to become a cosmetic dentist. Following training, the dentist will also need to join a practice or start up a private business providing cosmetic dentistry services.
Education is one of the key steps needed to become a cosmetic dentist. Many aspiring dentists choose to specialize in an undergraduate major related to their field, such as sciences or public health. After graduating with a four-year degree, dentists must then complete another four-year course at a dental training school. Admission to a dental college is based on academic records and standardized test scores, so it is important to perform well in undergraduate training and study heavily for admissions examinations.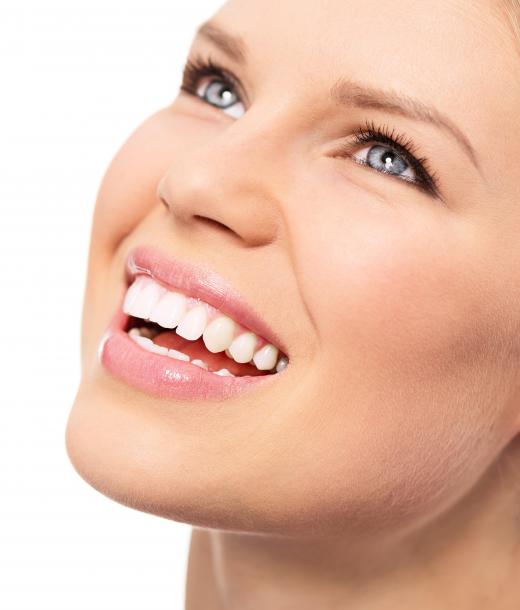 Near the end of a dental training course, or shortly after graduation, aspiring dentists must usually take licensing examinations. These are extremely rigorous tests offered by certifying bodies that must be successfully completed in order to receive a license to practice legally. Each country may have its own certifying body with different exam and educational requirements, so it is important to find out the specifics of testing procedures for a particular region. Many certifying bodies operate comprehensive websites that provide information on the tests, study guides, and even online training courses. After passing licensing tests, a person will be able to legally practice general dentistry.
In order to become a cosmetic dentist, a certified or training dentist will need to seek out additional training opportunities. Many certifying groups and professional associations of cosmetic dentists offer advanced training opportunities such as fellowships to aspiring professionals. Through fellowships and other continuing education, a dentist can learn new cosmetic techniques and work on mastering the skills most needed in this specialty profession. Since cosmetic dentistry is a fast-evolving field, continuing education may be necessary throughout a career, in order to stay on top of the latest tools and techniques.
In addition to mastering technical skills, gaining business skills can also be very important for any professional who wants to become a cosmetic dentist. While some dentists prefer to join an existing practice, others may want to set up private offices. Reading books or taking classes on small business management, basic accounting, and marketing can be greatly beneficial to a dentist who wants to run a successful private practice.
AS FEATURED ON:
AS FEATURED ON:
By: Stasique

Cosmetic dentistry requires formal and continuing education, licensing exams, and additional training focused on cosmetic treatments.

By: Igor Mojzes

Following training, a dentist will need to join a practice or start up a private business providing cosmetic dentistry services.

By: yotrakbutda

Cosmetic dentists may take special courses to master the latest teeth bleaching or whitening procedures.

By: Minerva Studio

Hands-on training is essential to becoming a cosmetic dentist.