How do I Become a Drama Teacher?
Many times, a person who enjoys dramatic productions and teaching will decide to complete the three steps required to become a drama teacher. These steps include completing formal post-secondary training, obtaining related work experience and securing employment. A drama teacher is responsible for providing instruction in acting methods and techniques. Employment opportunities can be found at the secondary and post-secondary levels.
The type of person who wants to become a drama teacher is naturally outgoing, loves the theater and the stage and enjoys working with young people. Although most people assume that drama teachers are failed actors, this is not necessarily the case. Acting work is notoriously unreliable, and many successful actors combine the two careers. The amount of time dedicated to each role can shift back and forth, depending on the opportunities available.
Although there is no formal education required to work in the dramatic arts, all drama teachers are required to complete an undergraduate degree as well as teacher training. Drama teachers usually hold a bachelor's degree in fine arts, with a major in drama or musical theater from a recognized university. Teacher training is an additional year at a university in most countries, and it often is recognized as a separate bachelor's degree in education. These two degrees are mandatory if you want to become a drama teacher at the high school level.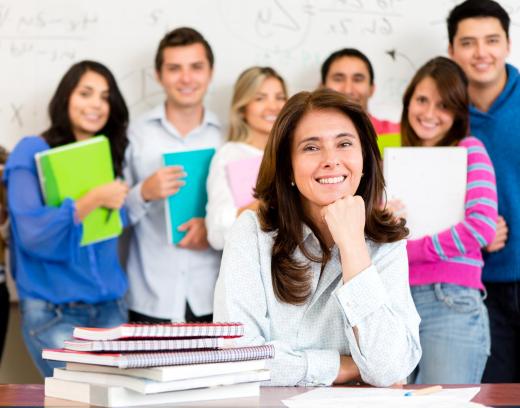 Teaching at the post-secondary level can include positions in community colleges, universities or private dramatic arts schools. Academic credentials required include a bachelor's degree but not necessarily a degree in education. At this level, a graduate degree in drama or extensive experience is expected.
Related work experience for anyone who wants to become a drama teacher can be divided into two categories: leadership and acting. Most schools are looking for teachers with extensive leadership experience. This type of experience can include working as a team leader, camp counselor or a volunteer supervisor. Acting experience can be obtained through positions in the local community theater, at a television station or in movies. In order to work as an actor, he or she must audition for a producer who is responsible for the creation of a play, film or television show.
At the secondary level, most schools offer a very small number of drama classes. In order to have a full workload, teachers can be required to work at more than one school or to teach both drama and another course. Flexibility and a willingness to teach other courses is often required, because there simply are not enough drama courses for a full-time teaching job in most schools. Look for opportunities in large cities, because school districts there are more likely to have both an active drama community and multiple schools.
AS FEATURED ON:
AS FEATURED ON:
By: kmiragaya

Drama teachers must teach different acting methods and techniques.

By: Andres Rodriguez

Many middle and high schools have a drama department, and offer classes as well as produce plays.

By: mikhaluk

Drama teachers often have experience acting or directing.

By: adimas

Drama teachers may have a history in local theater.