How do I Become a First Mate?
It takes training and years of experience to become a first mate, also known as the second captain, the person who is second in command on a ship. The precise requirements for licensure vary from nation to nation, and people who want to become a first mate should take the time to look up the specific requirements for the flag under which they intend to sail. Most nations have a regulatory agency which oversees certification of seamen for craft of all sizes, and this agency will have information about the qualifications needed to be certified as a first mate.
Before delving into the requirements which people need to meet to become a first mate, it can help to understand what a first mate does. First mates work on merchant ships, where they are responsible for a wide range of duties. When the captain is not on deck, they are in command of the ship, and therefore responsible for navigation and safety. The first mate also oversees the deck crew, handles loading and storing of cargo, and deals with emergencies as they arise.
To become a first mate, a sailor must can work her or his way up through the ranks. Starting in an unlicensed position as a member of the deck crew or an able seaman, the candidate gains experience which allows him or her to sit for the third mate's test. After successful passage of the test and at least a year in service in this position, the candidate can apply for the second mate's test and serve for a year as a second mate. At this stage, the candidate is eligible to take the exam to advance to first mate.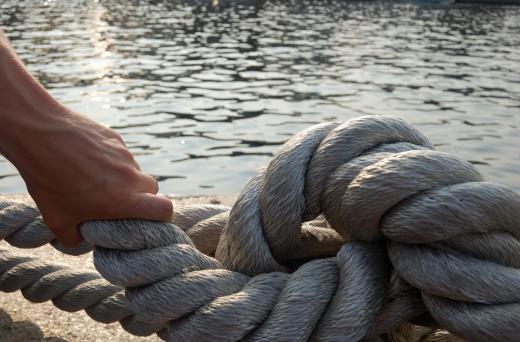 It is also possible to attend a maritime academy and graduate with a third mate's license or "ticket," following the steps detailed above to obtain a first mate's ticket. Once someone has become a first mate, she or he can start acquiring experience to sit for the captain's exam. Many people are interested in certifying as a captain both because they would like their own commands, and because they may need to act as captain in an emergency situation and it can be helpful to be certified if the emergency becomes extended, as for example if the captain dies at sea.
Pay for someone who has become a first mate varies, depending on the types of ships the mate serves on and her or his years of experience. Generally, merchant seamen receive good benefits which are designed in part to compensate for the long months they may spend away from home.
AS FEATURED ON:
AS FEATURED ON:
By: gwen0

Before rising to the rank of first mate, an officer in a merchant line has usually studied at a merchant marine academy and worked aboard several vessels.

By: inigoht

A first mate may start off as a deckhand.