How do I Become a Flagger?
A flagger, also referred to as a traffic controller, is a construction worker or government worker whose function is to maintain safety in roadway work zones by directing and controlling the flow of traffic around construction areas. Requirements to become a flagger vary by location, but most states and countries require some form of training and certification. Some examples of agencies and programs that set standards for flaggers or traffic controllers are the American Traffic Safety Services Association in the United States, and the Traffic Controller Accreditation Scheme utilized by the Department of Transport in Queensland, Australia.
Flaggers and traffic controllers may utilize flags, cones, barrels, barriers, or electronic warning signs to control traffic flow. It is necessary to take training classes that teach one how to successfully manage these items if one wishes to become a flagger. The primary goal of the flagger is keep both the construction crew and travelers safe as drivers move through work zones. To learn these and other skills required for certification, training classes are a must. Depending on location, classes may be found at local community colleges, through a state agency, at construction union training facilities, or at private professional training agencies.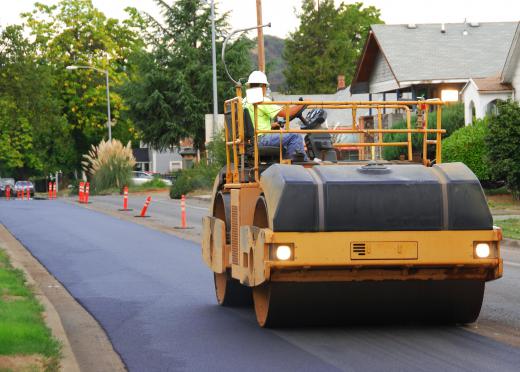 The training required to become a flagger will most likely need to be approved by the appropriate agency specific to one's location, so a future flagger must double check the requirements in his or her area. Most training programs are relatively short. Some may last only a few hours, but at minimum, a program should include visual flagging signals, two-way radio usage, signing, and sign setting regulations. Anyone who wants to become a flagger should also be familiar with the proper use of personal protective equipment, state or federal traffic control standards, work zone set up procedures, and the proper way to set up and remove two way traffic control sites.
When training is complete, the next step required to become a flagger is to acquire certification. This is typically given at the end of an accredited training program once a student has demonstrated mastery of the required skills. Other requirements vary by location, but it is common to require a flagger be at least 18 years old and have a valid driver's license. Requiring a high school diploma or its equivalent is also standard, as is the ability to communicate well and work in a team environment. Most flagger jobs are acquired through government agencies that oversee roadwork and traffic safety.
AS FEATURED ON:
AS FEATURED ON:
By: ftfoxfoto

Many flagger positions are found in the construction industry, particularly with road work companies.

By: Sam Spiro

Construction experience is generally not required to become a construction flagger.

By: Fotolia RAW

Construction companies usually have a steady demand for flaggers.

By: 00Ffilip

Flaggers may be used to direct traffic around the scene of an accident.

By: beeboys

A valid driver's license may be required to become a flagger.