How Do I Become a Flight Surgeon?
Flight surgeons are employed by three of the five U.S. military branches — the Army, Navy and Air Force — and are known as aviation medical examiners in the civilian sphere. Many other countries utilize these health professionals as well, for ensuring pilot health, safety and well-being. If you want to become a flight surgeon, you will need to obtain a medical degree, a fair level of physical fitness, and an officer's commission.
To become a flight surgeon, you must first endure a long road of preparative training and obtain a medical doctorate (MD) or a doctorate of osteopathic medicine (DO). This normally takes about six to eight years of college coursework and hospital residency. If not yet attained, U.S. citizenship must be obtained by graduation if you intend to become a flight surgeon.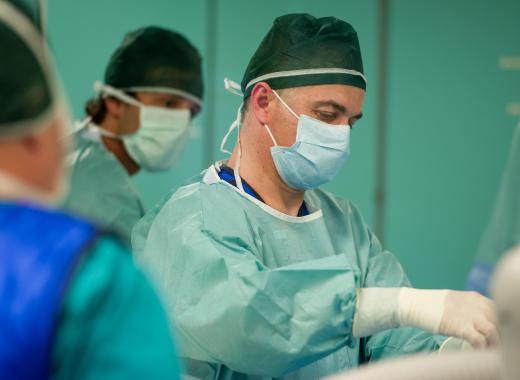 Once graduated, candidates can focus their efforts on a particular branch of service, if they have not already done so. Some who want to become a flight surgeon choose to enter a certain branch's Reserve Officers' Training Corps (ROTC) program while still training to become a doctor. In this way, they are ready to enlist and obtain special flight surgeon training as soon as they graduate and become certifies as a doctor. Others choose to enter a certain branch of service after graduating. These candidates must first attend that branch's officer training school before flight surgeon training can begin.
Each branch of service utilizes its flight surgeons in slightly different ways, so the schooling is different for each. The U.S. Army's flight surgeons are focused on that branch's helicopter pilots as well as their crews and families. The U.S. Navy flight surgeons deal mostly with carrier-based airplane pilots and crew. In the Air Force, entry-level flight surgeons may be involved with flight crews on base before advancing to a higher level of service, such as in aerospace medicine with NASA. Each branch's training ranges from introductory courses of about two months to three-year programs in advanced care procedures.
The term "flight surgeon" would only apply in wartime or after accidents, when he or she would be called upon to treat and even operate on the sick and wounded during transport by air. Each branch of service requires that its flight surgeons actually fly every once in a while, even though most of their time is spent in a clinic on base. Other common requirements for becoming a flight surgeon are a security clearance and the ability to pass a military fitness test.
These aviation medicine specialists who have been used since the dawn of military aviation in the beginning of the 20th century to gauge and protect the health of pilots and flight crews. Performing regular flight physicals is a fundamental responsibility of this type of physician. Aviation medical examiners are licensed by the Federal Aviation Administration to perform this duty in the civilian realm.
AS FEATURED ON:
AS FEATURED ON:
By: imagesflyphoto

Most flight surgeons are trained to perform various surgeries but rarely do.

By: MAD

U.S. Navy fight surgeons who are assigned to aircraft carriers clear naval aviators for flying duty.

Army flight surgeons are typically focused on caring for helicopter pilots and crew.

By: Roman Milert

A medical doctorate degree is required to become a flight surgeon.

By: Remains

A flight surgeon must be skilled at making various types of incisions.