How Do I Become a Hematologist-Oncologist?
In order to become a hematologist-oncologist, many years of training are required. Students must first finish both high school and a four-year college degree. Next they must become doctors by going to medical school for about four years and successfully completing the required licensing exams. After that, finishing a residency program in either internal medicine or pediatrics is required. The final step is to finish a fellowship program in hematology-oncology.
One of the first steps needed to become a hematologist-oncologist is to earn a bachelor's degree from an accredited university. Students do not necessarily have to major in a specific discipline, but they do have to complete coursework in chemistry, biology, physics and mathematics. Either before or after graduating from college, students typically take an admissions test in preparation for applying to medical school. Other components of a medical school application include transcripts from all college work, essays explaining the person's desire to become a doctor and letters of recommendation.
The next step to become a hematologist-oncologist is to attend medical school. Typically this degree takes four years to complete. Often, the first two years is spent in the classroom, taking courses on subjects such as anatomy, physiology, microbiology and pathology. The next two years are spent doing clinical work, interacting with real patients and learning how to apply the coursework learned during the first two years to real-life situations. Although students are not required to take specific courses in hematology or oncology, interested students might choose to take electives in those disciplines.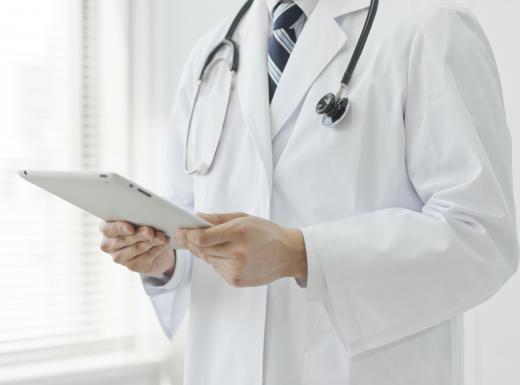 After finishing medical school, a person who is trying to become a hematologist oncologist should finish a residency program. Students typically apply for these programs while still in medical school. This part of the training takes three years to complete and provides a broad knowledge base of how to care for adults. If someone wants to be a hematologist-oncologist who takes care of adults, he or she would complete a residency program in internal medicine. Alternatively, if someone wants to become a hematologist-oncologist who takes care of children, he or she could complete a residency program in pediatrics.
Completing a fellowship in hematology-oncology is one of the final steps toward becoming a licensed practitioner in this field. Fellowship programs typically last at least two years. Some programs include time to clinically work with patients and time to do research in the field. After completing the fellowship and passing certifying exams, the person will be is qualified to work as a hematologist-oncologist.
AS FEATURED ON:
AS FEATURED ON:
By: Rob Byron

Hematologist-oncologist use blood tests to detect cancer.

By: japolia

A hematologist oncologist specializes in treating patients who suffer from blood disorders and/or cancer.

By: spflaum

Many hematology-oncology fellowships typically include opportunities for hands-on experience in research laboratories.

By: WavebreakMediaMicro

A hematologist-oncologist may specialize in treating children.

By: Radu Razvan

A hematologist-oncologist may perform laboratory testing in order to accurately diagnose a patient.

By: Photographee.eu

A hematologist-oncologist needs to be compassionate and empathetic in order to work closely with their patients.

By: Monkey Business

A residency in internal medicine is required to become a hematologist-oncologist.

By: Andres Rodriguez

Some hematologist-oncologists complete residency programs that focus on pediatrics or internal medicine.