How do I Become a Histotechnologist?
A histotechnologist is someone who works in a variety of medical jobs preparing human or animal tissue for examination by pathologists. To become a histotechnologist, an individual must possess a love of science, a strong work ethic and a detail-oriented nature. Histotechnologists are also known as histologic technologists or tissue technologists.
The first step for someone who wishes to become a histologist involves getting a bachelor's degree from an accredited school. Acceptable undergraduate majors include histotechnology, biology, chemistry or another approved science. Many duties of the histotechnologist are science jobs, so the student must excel in these courses. Classes include a focus on biology, anatomy and physiology, medical terminology, chemistry, immunology, histology and histochemistry.
After receiving a degree, someone hoping to become a histotechnologist must complete at least one year of training in a histopathology laboratory. Most clinical pathology settings have such a laboratory, and the student may work in a hospital or private lab. The student will be supervised by a certified pathologist and will learn pathology techniques as well as specialized training.
A certification test should be given to the person who completes training to become a histotechnologist. The test is not required by every state, but many individual employers require it. This test is administered by the American Society of Clinical Pathologists (ASCP), which charges a fee to register for the exam. If the student passes the test, he or she becomes a Certified Histotechnologist (CHTL).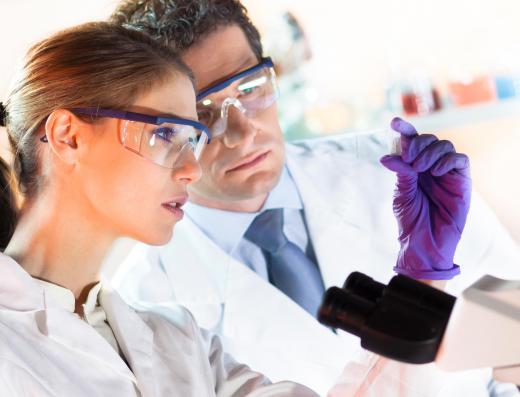 After completing the test, the ASCP provides links for employment to the person wishing to become a histotechnologist. They can be found on the website and in the monthly publication. The histotechnologist will likely work in a hospital, clinical pathology lab, research lab, doctor's office or pharmaceutical company. The American Medical Association lists the average annual salary of a histotechnologist as between $45,000 and $50,000 US Dollars (USD). The demand for these individuals is growing, as there is a nationwide shortage of those wishing to become histotechnologists.
On the job, a histotechnologist is responsible for closely analyzing microscopic cell and tissue structures before performing examinations. Together with a pathologist, the histotechnologist is responsible for determining the nature of the results. Abnormalities must be identified and related to physiological functions. Tests and procedures can be recommended by the histotechnologist and verified by the pathologist. The histotechnologist works in a setting that is constantly seeing advancements in technology, so continuing education classes in histology are required.
AS FEATURED ON:
AS FEATURED ON:
By: Africa Studio

A histotechnologist may find employment in a research lab.

By: Andres Rodriguez

Laboratory training is usually required prior to becoming a histotechnologist.

By: kasto

Most histotechnologists must complete supervised hands-on training in a medical or research facility before graduating.