How do I Become a Lighting Designer?
A lighting designer is a professional who chooses equipment and creates the look for live performance in consultation with the director and other designers. In film, the lighting design is called the gaffer, and works in close contact with the film's director. To become a lighting designer, a person must be able to demonstrate skill and artistic ability with light. There are many viable ways to become a lighting designer, although finding initial jobs can sometimes be difficult.
In order to become a lighting designer, it is important to gain some familiarity with the equipment, the theory of design and the world of theater or film. One way to gain experience is by volunteering to help with lights at a local theater production or with a student film. Try to ask questions about each type of light and how the lighting board works. By learning about the basic tools of lighting design, the first step can be taken to understanding how a design works.
Although it is possible to become a lighting designer or gaffer independently, many people choose to take at least basic courses in the theory of lighting design. These classes may teach basic principles about color, intensity of light, how light is used to set a mood, and how a design is constructed. In the film world, gaffers are often also directors of cinematography, so many train to use and understand cameras as well as the theories of lighting for film. Lighting design classes can be hard to find for part-time students, although community colleges with a good theater program will often have a few technical courses available. A person aiming to become a lighting designer can also apply to be a full-time student in theater or film design, but not all professionals in the field have a university education.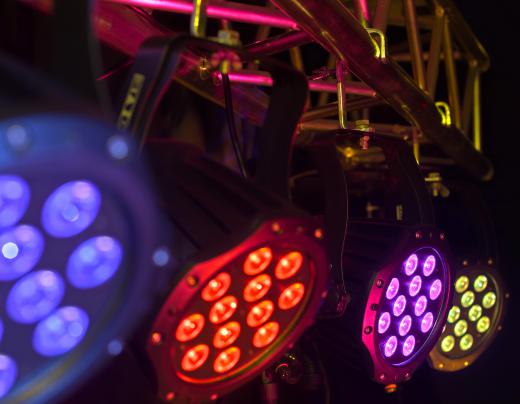 After the basics are mastered, trying to become a lighting designer becomes based on available jobs. Many find work as designers with theater companies or independent movie houses, but this work may be unpaid at first. It is not uncommon to have a day job while trying to start a professional career in this field; some lighting designers will also take freelance jobs as technicians while waiting to land a design gig.
Choosing to become a lighting designer does not guarantee a career, even for those with considerable talent. The world of film and theater is notoriously difficult to break into, and for freelance professionals like designers, can take years to achieve consistent work. Persistence and passion are often the name of the game when working in the theater or film industry.
AS FEATURED ON:
AS FEATURED ON:
By: Sergey Lavrentev

Working on a lighting crew is a popular way to gain experience for lighting designer positions.

By: georg thiel

A lighting designer might employ different colored lights.

By: Haider Y. Abdulla

Lighting design is important in cinematography, because it greatly affects the images the camera can record.