How Do I Become a Marine Electrician?
The career path to become a marine electrician can differ depending on where you live, though you typically need to have both practical experience and some type of certification. It is sometimes possible to attend a trade school or work as an apprentice prior to starting this type of career, though military electricians and engineers are often qualified to take certification exams as well. If you live in the United States, you will need a certification from the American Boat and Yacht Council (ABYC) or National Marine Electronics Association (NMEA) to work for many employers, while the British Marine Electronics Association (BMEA) should be contacted in the United Kingdom.
Marine electricians perform many of the same duties as their commercial and industrial counterparts, though training as a regular electrician will typically not prepare you to become a marine electrician. Training specifically to become a marine electrician in a vocational school context, or as an apprentice, is more common than moving from one specialty to another. Job opportunities for professionals in the marine electronics field include installing wiring in new boats, working on board large vessels while they are at sea, and diagnosing or fixing a variety of issues either as the employee of a marine electrician company, dockyard, or as an independent contractor.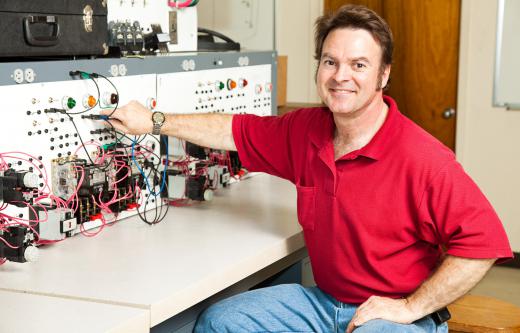 The first step to become a marine electrician can depend on what type of previous experience or training you have, and the specific opportunities in your area. If you are a high school graduate and have never worked as an electrician before, you may attend a vocational school or look for work as a helper or apprentice. A marine electrician's helper can gain valuable experience, and may eventually qualify you to take certification exams. Apprentices sometimes need to have prior work experience, or be enrolled in a vocational program, so you will need to look into the specific opportunities available in your area.
Another common way to obtain the necessary knowledge and experience is in the armed forces. Many former marine electronic engineers go on to careers as civilian marine electricians. Other electronics and engineering job opportunities may also be open to you if you have this type of background, so it may be a good idea to investigate all of your options.
In addition to work experience, you will typically also need some type of certification before you can become a marine electrician. Some areas have no legal certification requirements, though you may find it difficult to locate a company willing to hire you without a particular certification. The NMEA and ABYC offer certifications in the US, the BMEA provides similar certification in the UK, and other countries have their own agencies and certification programs. Before you seek out a certification, it may be a good idea to check with potential employers to determine exactly what they are looking for.
AS FEATURED ON:
AS FEATURED ON:
By: Lisa F. Young

Most marine electricians gain hands-on experience through a trade school, apprenticeship or on the job training.

By: Kadmy

Marine electricians perform many of the same duties as their commercial and industrial counterparts.