How do I Become a Medicaid Specialist?
Becoming a Medicaid Specialist requires a blend of education and experience. Start with a bachelor's degree in health administration or a related field. Gain experience in healthcare, focusing on Medicaid policies. Certification, such as Certified Medicaid Professional, can enhance your credibility and job prospects in this specialized field.
A career as a Medicaid specialist usually requires at least a high school diploma and can require a bachelor's degree, depending on the scope of the job. Some Medicaid specialists perform mostly clerical or billing-related duties, and others serve more in the capacity of a social worker. Prior experience in these areas can help in your quest to become a Medicaid specialist. In some cases, the employer will require prior experience working with Medicaid.
Medicaid is a United States federal healthcare program that is administered by the states. Each state can have variations in who qualifies for the program and how payments are made. Income requirements and other requirements also must be met. Generally, low-income families with children, low-income pregnant women, people with disabilities and nursing home residents are eligible to apply for benefits.
In addition to meeting education and experience requirements, you need other qualifications to become a Medicaid specialist. First, you should be well-versed in Medicaid laws. While on the job, you also will be expected to keep up to date on any changes or pending changes. Other skills important to the job are good communication skills, computer skills and attention to detail.
If a bachelor's degree is required, it is helpful to have a degree or coursework in the fields of psychology, sociology and counseling. Familiarity with various medical terms also is desirable. To become a Medicaid specialist without a degree, any experience in customer service is helpful. Good customer service involves quickly assessing clients' needs and then linking them to the appropriate services in a friendly, efficient manner.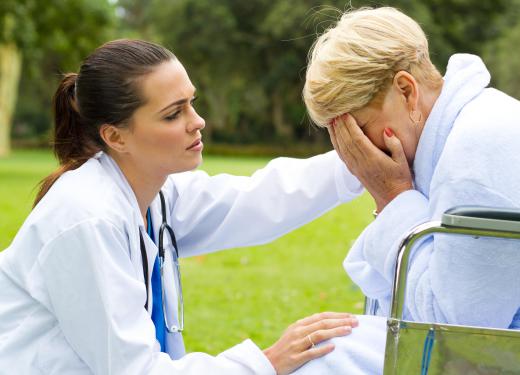 Typically, you need to be very detail-oriented to become a Medicaid specialist. Often, Medicaid specialists help potential clients fill out an application to receive services. The applications can be highly detailed and must be filled out completely and accurately before a client can become eligible for services.
In some cases, you might be required to go to a person's home to collect or review the application or other required information. In some cases, family members or medical doctors also will have input in the application process. All of this can require tact, patience and persistence on the part of the Medicaid specialist.
Before you become a Medicaid specialist, understand that the job can be very stressful. As budget cuts occur, Medicaid specialists can find themselves handling large numbers of client cases. In addition, clients will have often have severe financial problems or will be facing a potentially terminal illness, such as cancer, acquired immune deficiency syndrome (AIDS) or Alzheimer's disease.
AS FEATURED ON:
AS FEATURED ON:
By: TheFinalMiracle

Medicaid helps families from lower income brackets receive medical care.

By: Monkey Business

Medicaid can help seniors cover healthcare costs.

By: michaeljung

Nursing home residents may be eligible for Medicaid benefits and should apply to see if they qualify.

By: Miriam Dörr

Individuals with severe mental and developmental disabilities may qualify for SSI as well as Medicaid.

By: gwimages

Individuals with disabilities may be eligible for Medicaid benefits.

By: WavebreakMediaMicro

Medicaid is a U.S. federal healthcare program that is administered by the states.