How Do I Become a Medical Malpractice Lawyer?
A medical malpractice attorney is a lawyer who represents patients, or the families' of patients, who believe they have been injured due to the action or inaction of a doctor or other medical care provider. The first step to become a medical malpractice lawyer is to become an attorney. After you have become an attorney, you will need to work for a personal injury firm that specializes in medical malpractice law. You will need to be able to attract clients and present cases in a court room to become a medical malpractice lawyer.
To become a medical malpractice lawyer, you must first get the required education that is mandated for every attorney. In the US, the first step is to get your bachelor's degree. While you can major in pre-law, doing so not is not required to get in to law school and many people major in English, psychology, or an unrelated field before applying to law school.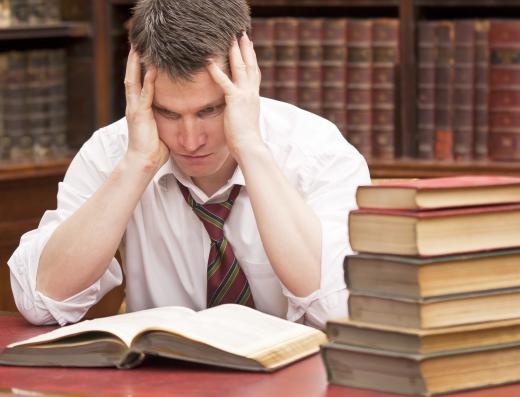 Before applying to law school, you will also need to pass the Law School Admission Test (LSAT). The LSAT tests your ability to resolve logic problems and to comprehend text that you read. Your grade point average (GPA) and LSAT score are important factors in determining which law school you attend. Attendance at a law school is compulsory if you want to become a medical malpractice lawyer. It is best to attend a law school approved by the American Bar Association, otherwise you will need to pass additional testing before you take your bar exam.
Law school is usually a three-year program in the US. Most schools do not offer specialties in medical malpractice. Since medical malpractice is a form of tort litigation, however, you may want to take courses in torts, as well as courses in medical ethics if you know you want to become a medical malpractice lawyer. You may also want to participate in moot court programs or other programs that prepare you to present a medical malpractice case in front of a court room.
Upon graduation, your next step is to find a law firm that represents clients or doctors involved in medical malpractice cases. If you want to represent injured plaintiffs, this usually means going to work for a personal injury law firm, since medical malpractice is considered a form of personal injury litigation.
Once you have begun work at the firm, you may begin to represent clients in medical malpractice cases. You may not be able to find your own clients immediately, so your first steps at the law firm are likely to involve working for the established partners and attorneys in the firm to gain experience and build your reputation. If you want to become a medical malpractice lawyer, you will have to establish yourself as an expert in the field and as a strong courtroom presence in order to attract clients.
Frequently Asked Questions
What does a lawyer for medical malpractice do?
A legal expert with a focus on defending clients who have suffered an injury due to medical carelessness is known as a medical malpractice lawyer. These attorneys can guide clients through the difficult legal process of making a medical malpractice claim and requesting reimbursement for their losses because they have a thorough understanding of the medical industry.
What qualifications are required to become a medical malpractice lawyer?
Candidates normally need to finish a four-year bachelor's degree, followed by three years of law school, to become medical malpractice attorneys. To get their legal license, they must also pass the state bar test. Having expertise in the medical industry, whether via employment as a healthcare worker or by completing a relevant curriculum in law school, might be beneficial.
What skills are necessary to be a successful medical malpractice lawyer?
As they will be interacting directly with clients, medical experts, and other legal professionals throughout the legal process, successful medical malpractice attorneys need to have great communication and interpersonal skills. To create a compelling argument on behalf of their clients, they must also be able to decipher complicated medical records and other documents. To get a good end for their customers, they must also be diligent and possess great negotiating abilities.
What types of cases do medical malpractice lawyers handle?
Medical malpractice attorneys handle claims when a healthcare provider or setting offered subpar treatment that caused the patient pain or injury. Misdiagnosis or delayed diagnosis, surgical mistakes, pharmaceutical errors, and birth traumas are examples of common incidents of medical negligence. Medical malpractice attorneys try to show that the medical professional was careless or fell short of the level of care that would be reasonable to expect of a competent professional in the same circumstance.
What is the salary range for medical malpractice lawyers?
Medical malpractice attorneys' pay scales may change based on a number of variables, including the size of the legal firm, the region, and the amount of expertise. As of May 2020, the median annual pay for all attorneys was $126,930, according to the Bureau of Labor Statistics. The pay for medical malpractice attorneys may vary, meanwhile, from around $60,000 for entry-level employment to more than $200,000 for seasoned attorneys in big legal firms.
AS FEATURED ON:
AS FEATURED ON:
By: -Marcus-

Law school is a requirement for prospective medical malpractice lawyers.

By: Valeriy

A law school student who wants to become a medical negligence lawyer may want to intern for a lawyer who already works in the medical negligence field.

By: beerkoff

Some attorneys focus on medical malpractice cases.

By: Anna

An experienced medical malpractice lawyer can play a key role in winning lawsuits against hospitals and doctors.