How do I Become a Navy Officer?
There are many different paths a person may take to become an officer in the United States Navy. For example, a person interested in a career as a naval officer may decide to do so as an officer on a submarine, as an attorney or doctor, as an engineer, or even as a chaplain. The requirements for pursuing these and other naval officer careers vary. Generally, however, those interested in becoming naval officers do so through the United States Naval Academy, Naval Reserve Officer Training Corps (NROTC) scholarship program, or Officer Candidate School.
A person who wants to become a Navy officer may wonder how old he has to be to do so. This depends on the method used for commissioning. For example, an individual who attends the Naval Academy must be at least 17 years old but not more than 23. If a person is 23 before July 1 of the year in which he would be admitted, he would not be eligible for admission. The Naval Reserve Officer Training Corps (NROTC) scholarship program requires candidates to be under 27 by the final day of June in the year of commissioning. Other paths to becoming an officer may have different age requirements.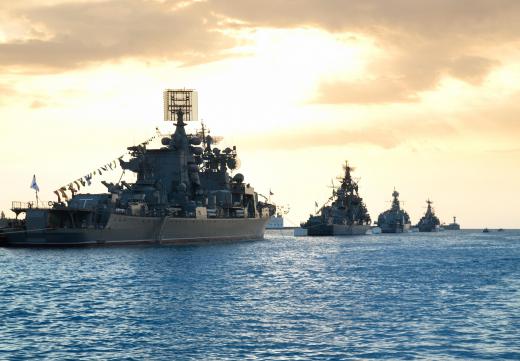 Education is a general requirement for a person who wants to become a Navy officer. Usually, people seeking commissioning need high school diplomas or General Educational Development (GEDs) diplomas and college degrees. Some people may receive the education and training they need through the Naval Academy, but admission is competitive. As such, some interested in a Navy career may need to secure education at a non-military college or university.
One way to become a Navy officer is through the NROTC program. People accepted into this program receive scholarships to attend approved colleges and universities. They also receive a monthly stipend. After graduation and meeting any other requirements, an individual who took this route would be eligible for officer commissioning.
Another path for becoming a Navy officer is through Officer Candidate School. This involves 13 weeks of training for enlisted service members who possess college degrees. To be eligible to seek officer commissioning this way, a person has to be between 19 and 28 years old, take an examination, and meet physical fitness requirements.
Since there are so many ways for a person to become a Navy officer, an interested party may do well to visit the Navy's website for information. The site lists a number of Navy careers and the requirements for each. It also allows interested parties to anonymously input details about their education and career desires and receive requirement information.
AS FEATURED ON:
AS FEATURED ON:
By: Pavlo Vakhrushev

Officers in a nation's navy have usually received command and technical training at a naval academy or in an equivalent ROTC program.