How do I Become a Night Auditor?
Night auditors work overnight shifts at hotel front desks. In addition to providing general customer service duties such as checking in and out guests, they also review daily records regarding financial transactions, billing information, and occupancy. There are generally no strict education or training requirements to become a night auditor, but a prospective worker does need to possess a number of important practical skills. A person who wants to become a night auditor can prepare for the job by developing strong communication, math, computer, and organizational skills. In addition, previous experience in other customer service or accounting related positions can be very helpful in finding work.
Perhaps the most obvious and important trait needed to become a night auditor is the ability to stay awake and alert throughout a graveyard shift. People who enjoy late nights and have the chance to catch up on sleep during the day are generally best suited for the job. A parent or student who has responsibilities during the day, however, may not be able to handle frequent overnight shifts. The ability for an auditor to get regular sleep is important not only for job performance, but also for his or her health.
Most modern hotels use computerized systems to keep track of guests and accounts. A person who wants to become a night auditor generally needs to have good typing skills and be very familiar with basic word processing and database software. Math skills and an eye for detail are important as well, as an auditor needs to carefully review on-screen data before and after running audits.
Employers generally prefer to hire new night auditors who have reliable customer service experience. A person who has previous experience in other hotel jobs, such as a front desk clerk, bellhop, or restaurant attendant, is at a distinct advantage when applying for night auditor positions. Experience in call centers, supermarkets, and retail stores can also show a prospective employer that an individual is adept at dealing with customers both in person and on the telephone.
A person who believes he or she is qualified to become a night auditor can look for openings on job search websites and in newspaper ads. In addition, it is usually worthwhile to fill out applications at hotels that are not actively hiring. If a position does become available in the near future, a hotel manager is likely to contact people who have already submitted applications before placing a public ad for the opening.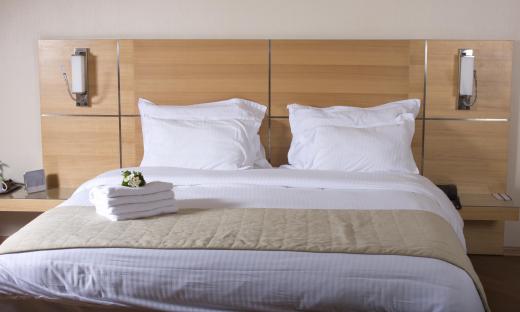 After finding a job and having a successful interview, an individual can usually expect to spend several days in training under an experienced desk clerk. He or she will learn about software applications, specific hotel policies, and audit protocols. A night auditor who excels at his or her job may quickly have the opportunity to advance to a supervisory or administrative position.
AS FEATURED ON:
AS FEATURED ON:
By: taa22

Night auditors must have strong typing skills.

By: Robert Kneschke

Experience as a bellhop might open the door to a night auditor job.

By: .shock

Someone who enjoys late nights and can catch up on sleep during the day could work as a night auditor.

By: mertcan

A job as a night auditor can be a good entry-level position for employees willing to work overnight to settle the hotel's financial accounts.

By: WavebreakMediaMicro

Having call center experience may help a person to become a night auditor.