How Do I Become a Patient Navigator?
People can become a patient navigator or advocate through a variety of means, but, at present, there is no standardized training for this field. While there is no defined educational path, a number of certificate programs and even a few graduate programs have been developed. It's not clear that participating in them guarantees work or professional recognition. Many individuals who choose this career have advanced training in other areas like healthcare, social work, and insurance, and some patient navigators simply have a lot of experience working with social systems, medical providers, and insurance companies. Basic skills required of someone who would like to become a patient navigator include organization, ability to understand medical systems, and strong communication.
The start of this profession is often incorrectly dated to 1990, when the American Cancer Society® created a patient navigation program in Harlem. Many of the things this program offered, like helping individuals get expedited care, and identifying their barriers to appropriate medical services, were already defined as tasks for many social workers. Still, it's accurate to state that the American Cancer Society® developed a program that was more specific than the work performed by social workers. Since 1990, the organization has offered training for people interested in entering this field, and this training may be the most recognized education to become a patient navigator.
A number of other patient navigation certificate programs have been created. Since 2010, some colleges and universities have begun to develop either master's degrees or certificate training in this field, too. As there is still no clear professional definition of what skills are necessary to work as a patient navigator, it's difficult to weigh the benefits of these programs. Some believe that training in medical care, social work, or business may be just as helpful as specific education in navigation. Advocating or navigating for themselves or others may also provide people with the experience needed to take on this work professionally.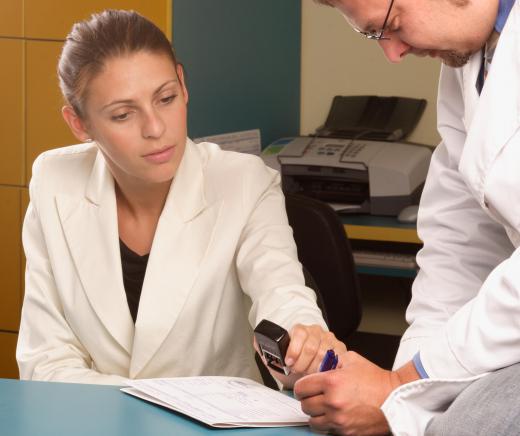 Basic competencies required to become a patient navigator include a strong understanding of medicine, medical business, the insurance industry, and government health systems. There are many ways to acquire this knowledge. Since navigators are seeking timely care for people who may have chronic illness and a variety of health needs, they must be able to keep files on patients in an organized way. A pleasant phone manner and good interpersonal communication are vital, too. Additionally, people interested in this career should have experience working in some aspect of health care either on a professional, personal, or volunteer basis.
Individuals who want to become patient navigators are advised to research the current training opportunities in the profession. At some not too distant point, professionals in this field are likely to establish formal credentialing or a streamlined training process. Reading the writing of people presently working as navigators is a good way to determine if and when this will occur. It can also inform people about what additional steps might be required to become one of these specialists.
AS FEATURED ON:
AS FEATURED ON:
By: jovannig

A patient navigator must understand the business of medicine.

By: endostock

Patient navigators often have extensive experience working with medical professionals.

By: WavebreakMediaMicro

Patient navigators seek timely care for people who may have a chronic illness.