How Do I Become a Patient Sitter?
The qualifications to become a patient sitter vary by employer. In most cases, you will be expected to hold a high school diploma or its equivalent. You may also be required to pass a criminal background check. Some employers may also prefer that you have training and experience as a nurse's aid, also known as an auxiliary nurse in the United Kingdom, a psychiatric aide, or health care assistant. You may be required to complete additional training after you are hired by a health care agency, hospital, or nursing facility.
A patient sitter is someone who provides supervisory services to a health care patient who may present a danger to himself or others. It is also possible to become a patient sitter for someone who is simply in need of additional companionship and care. In many cases, however, a sitter is assigned to someone who has dementia, who is easily agitated, or who is suicidal. As the job typically includes working with vulnerable people, such as the elderly and those who do not have complete control of their mental faculties, you can expect to undergo a background check to ensure that you are a person of good character who would not take advantage of someone in your care.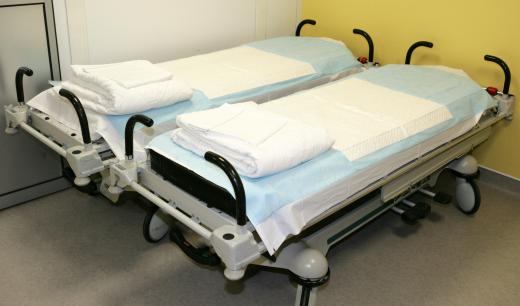 You will typically not need to obtain any type of licensing or certification to become a patient sitter. Some employers may want you to hold professional credentials, however, because you may be asked to work with patients who have very specific needs. If you hold certification as a psychiatric technician or nurse's aide, you may be in a better position to obtain higher-paying jobs. At the very least, you may wish to obtain CPR certification before beginning your work search. You may also want to engage in volunteer work in a hospital, nursing home, or other health care setting to get experience in hands-on care with patients.
After you become a patient sitter, you will typically be assigned to sit with one patient during a shift. In general, you will be expected to not let the patient out of your sight and to immediately notify the nursing staff if the patient begins to act out, to show signs of distress, or attempts to escape his room. Depending on the circumstances, you may also be asked to provide basic care for the patient, such as assistance with eating, hygiene, and grooming. Some patients may also be capable of social engagement, so you may spend time engaging the patient in conversation, reading to him or her or even playing card or board games together.
AS FEATURED ON:
AS FEATURED ON:
By: Agence DER

A patient sitter may be responsible for changing the linens of a patient's hospital bed.

By: godfer

A patient sitter is responsible for monitoring the behavior and habits of a specific patient in a medical center.

By: michaeljung

A patient sitter may be responsible for a patient's transport throughout a medical facility.