How do I Become a Percussionist?
Becoming a percussionist involves dedication and practice. Start by learning to read music and understanding rhythm. Take lessons, either privately or in a group setting, and practice regularly. Join a band or orchestra to gain experience. Remember, perseverance and passion are key in this musical journey.
A percussionist is someone defined slightly differently than a drummer. He/she is a musician with excellent rhythm who has expertise in playing a wide variety of musical instruments including drums, timpani, xylophone, vibraphone, many handheld instruments or bell based instruments and possibly piano. In amateur or professional settings, a percussionist uses several instruments through the course of a performance, providing the additional sounds a piece requires to drive it or make it complete. There are many ways to become a percussionist, and the suggestions listed below are one common method.
Frequently, the person wishing to become a percussionist begins in grammar or middle school with learning how to drum. These schools offer opportunity for practice on things like triangle and glockenspiel. At this stage, the goal is to gain skills through instruction and through the very obvious means of practicing. Some students also take private lessons in addition to studying at school.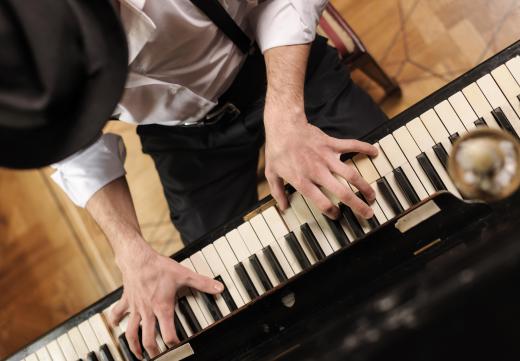 At the high school level, it's not too late to become a percussionist if a person has good rhythm, can quickly learn things, and exhibits natural talent. High school level work offers many more chances to explore the use of different instruments and there may be many settings in which to practice and perform. Being a musician for local musicals on/off campus is good experience. Participating in youth symphonies is another method for increasing skills and learning to play a vast variety of percussion instruments.
People who have played percussion with skill for four or five years before entering college have already become a percussionist, just not professionally. They do have a choice about whether to pursue studies at the college level. Others might be skilled enough to get work with bands, symphonies, or as set musicians.
Attending college or a conservatory doesn't hurt, since it may significantly increase skill and offer more opportunities to perform. The only time that it might be a better idea to become a percussionist at the professional level right out of high school is if there are paying job offers available. Otherwise, the additional education to become a percussionist is beneficial.
All musicians "face the music" on the issue of the difficulty of obtaining work that provides a living. Even with a college degree, there is no guarantee of getting adequate paying work, and trying to make a living by playing any musical instrument is likely to be difficult in this competitive field.
It's not a bad idea to use college for obtaining skills in less competitive areas, such as obtaining a music teaching credential. This might provide adequate funding while people continue to look for performance or recording work. Even when percussionist jobs never amount to a living, people are likely to find work opportunities with smaller symphonies or bands, with theater companies, and in other settings. For some people this work is enough, allowing them to do what they love best.
AS FEATURED ON:
AS FEATURED ON:
By: BlueSkyImages

Learning to play the piano may be part of becoming a percussionist.