How do I Become a Professional Pianist?
The process to become a professional pianist will vary significantly depending on exactly what sort of pianist you want to become. To be any kind of pianist, you will need a fairly high level of skill in performing on your instrument, and you may or may not need a specific educational background. If you want to be a concert pianist, it can be a much more difficult process in terms of education, while becoming a pianist in popular music might be based more on pure performance ability. There are also pianists who play in small venues performing cover songs or work strictly behind the scenes in the music recording industry. If you want to be involved in either of those professions, you will need a totally different set of skills.
To become a professional pianist who plays classical music, you will almost certainly require a serious musical education. You'll probably have to go to a fairly prestigious music school to become a concert pianist. Prestigious musical colleges often offer scholarships to people with major musical talent, so it might be possible for you to get in without spending a ton of money if you have a natural gift with the instrument. Many concert pianists don't always make a huge amount of money, so that's something you may want to consider when deciding whether or not to pursue this career path.
If you want to become a professional pianist in a popular music form, such as rock or country, it is often a totally different process. Education isn't necessarily all that important, but you will probably need a lot of ability with the instrument. You will usually need to surround yourself with other high-caliber performers and come up with original music that attracts the attention of music fans. Becoming a significant pianist in a more demanding field such as jazz is both similar and different. You'll probably benefit greatly from a music education, but you'll also generally have to use the same job strategy that you would use if you were pursuing a rock music career.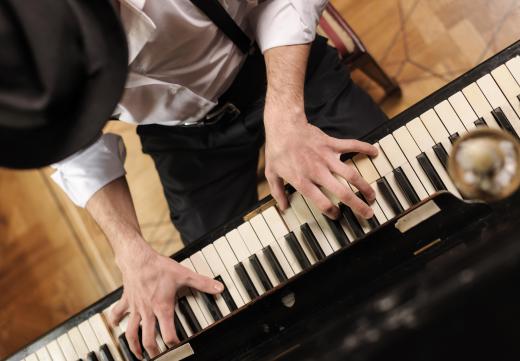 Another way to become a professional pianist is by becoming a studio musician. A musical education is helpful here as well, and you will need to be a very reliable performer with a high level of skill on the instrument. If you want to play with a cover band and simply make money in nightclubs and other venues, you'll need a good knowledge of popular songs and the ability to consistently perform on a nightly basis. For either of these jobs, you will probably also have to do a lot of networking to make the right contacts.
AS FEATURED ON:
AS FEATURED ON:
By: Moreno Novello

Some professional pianists play to a more alternative audience, and achieve a more commercial following.

By: BlueSkyImages

A serious musical education is required to become a professional pianist.