How Do I Become a Ramp Agent?
You may need to meet certain requirements before applying for a job as a ramp agent. Relative to ramp agent duties, you should meet the minimum education and training requirements usually set by the airlines and transportation industries. Because of the strenuous labor involved, it is best to be in good physical shape. Some airline companies may also require passing various aptitude tests before you can become a ramp agent. In addition, you should be able to pass a background security check to become a ramp agent.
Generally, there is not one set standard for training and education to become a ramp agent. On-the-job training is usually offered with most airlines. In this training, you learn how to operate the ground equipment often used on the airport tarmac. Where education is expected, some airlines only require that you complete a secondary education.
Pre-employment screening may vary among airlines, but typically includes background checks, drug testing, and aptitude tests. Normally, you must pass the background check if you want to become a ramp agent. Overall, you should not have a criminal record from a previous arrest or conviction.
The majority of airline companies also require prospective employees to pass a drug test. Many will pay for the drug test and make a tentative job offer pending the results. In most cases, you will visit a drug testing facility designated by the airline.
Passing standard aptitude tests are additional pre-employment screening tools to ensure you can handle certain duties. Some tests are assessments of your reading comprehension and ability to follow directions. Other tests may focus on your physical dexterity to perform ramp agent job duties.
Being in good physical condition can give you the endurance to withstand the physical labor associated with the job. For the most part, your primary duty as a ramp agent is to load and unload passenger luggage and cargo from the airplane. To perform this duty successfully, you should be able to lift the minimum weight requirements. You may also need to know how to handle the ground equipment to carry luggage to and from the airplane.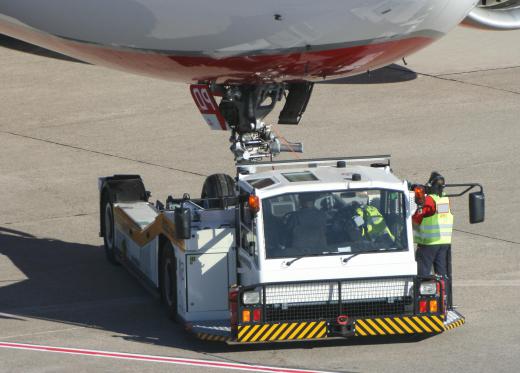 There are several other ramp agent duties to consider. One duty is directing the airplane into the proper gate after landing and away from the gate before takeoff. Another important duty for most ramp agent positions is cleaning the airplane between flights.
Applying for a job as a ramp agent usually entails finding open positions in your area through several mediums. The airline company may list job openings directly on its website. Some airlines may outsource the staffing and hiring responsibilities for some positions, however. You might also find this information on the company website. Searching online job boards is another tool to help you apply to ramp agent positions.
AS FEATURED ON:
AS FEATURED ON:
By: Carlson

Ramp agents board and clean aircraft between flights.

By: Picture-Factory

Ramp agents are responsible for directing airplanes in and out of airport gates.

By: Joachim Schiermeyer

Ramp agents are trained to use equipment used on the tarmac at an airport.

By: Pavel Losevsky

For safety reasons, most airlines require that ramp agents submit to background checks and drug screenings.

By: Riccardo Piccinini

Ramp agents will be tested for standard aptitudes, such as reading comprehension.