How Do I Become a Realty Specialist?
The requirements to become a realty specialist can depend on the employer and region, and in some cases the job may require a license and specialized training. It is also important to be aware that this term can be used in several ways. The United States government uses real estate specialists to handle property acquisition and disposal, and has a realty specialist program. Individual real estate agencies may also use this title informally to describe licensed real estate agents.
In the case of government programs, applications are typically open to people with college degrees and/or experience in real estate. Some degrees that can help someone prepare to become a realty specialist include undergraduate qualifications in fields like pre-law, real estate, or political science. A postgraduate degree is not typically required, but can be useful for people who would like to start at a higher pay grade. The government assigns pay grades on the basis of training and experience, and starting with more training or experience can allow people to skip some steps on the promotion ladder.
Experience that can help someone become a realty specialist may come from working in a real estate office, in which case the person may be a licensed real estate agent or broker. It can also be gained by working at a title company, appraising real estate, or assisting an attorney who focuses on property sales. This experience can be useful in addition to a degree, as it may indicate extensive familiarity with the subject. In some cases, it may be accepted in lieu of a degree, or could be considered equivalent to a postgraduate qualification.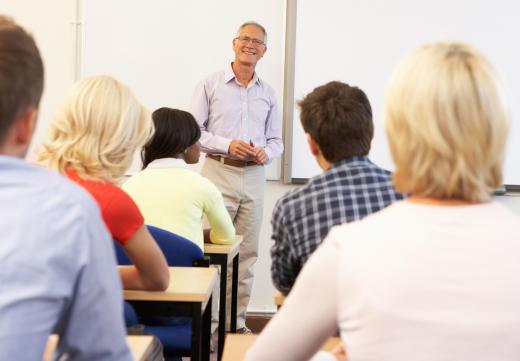 Specific training on the job is often available to help a candidate become a realty specialist. These government employees help manage government lands, making decisions about when to buy and sell land, and how to use properties in the government's possession. They may be consulted for leases and other agreements and can play a role in discussions about environmental remediation, rezoning, and other activities. A thorough knowledge of the laws involved as well as individual agency policies and community concerns is necessary to become a realty specialist.
Real estate agents may describe themselves as realty specialists as well, and the exact requirements for the position can be vague. Trade organizations do not regard this as a protected term, like Realtor®, which can only be used by people who have met certain requirements. People may indicate that they are specialists in a particular kind of property, such as commercial or residential, or a region. Working with someone who has extensive experience in a specific area or with special-needs properties like large estates may result in a better outcome.
AS FEATURED ON:
AS FEATURED ON:
By: highwaystarz

Experience working as a licensed real estate agent can help someone become a specialist.

By: Monkey Business

In many cases, a realty specialist has completed coursework and passed the real estate licensing exam.