How do I Become a Remedial Teacher?
A person wanting to become a remedial teacher often follows the same path as anyone else who would like to teach at the K-12 level. This means getting a bachelor's degree and earning a teaching credential, since many regions require it. There are different types of remedial teachers, and some work at community college levels. Many of these teachers need a master's degree specializing in adult basic education. English as a second language (ESL) teachers are also considered remedial teachers and may need to specialize in this type of teaching when they earn their bachelor's degree and credential or master's.
High school students can easily begin training to become a remedial teacher. They should accept opportunities to tutor or teacher-assist in classes with remedial students. Such experience looks terrific on a resume and can help people decide if they enjoy this area of work.
At the college level, students will need to investigate exactly what major is the most useful for getting a basic education teaching credential. Names of majors could vary and it can help to discuss this directly with the school's education department or with the credentialing agency that serves the particular region. The goal of education should be to understand the types of focus needed to become a remedial teacher. School doesn't tend to involve mastery in specific subjects such as math, English or others — instead, a good program will be about learning how to be a good teacher.
From this point, students who would like to become a remedial teacher will also need to understand requirements for earning a credential. While some students simply become private tutors in remedial work, more work is available for credentialed teachers. Depending on region, students may spend one or two more years studying after they receive a bachelor's degree before being licensed to work.
Many community colleges have thriving remedial programs and most of these require people have at least a master's degree. Unless the program is also connected to adult education programs, a credential may not be necessary. It should be noted that at community colleges, plenty of people teach remedial classes without having trained to become a remedial teacher. For this reason, all teachers at community college levels should be well acquainted with best practices of basic education. It's also worth pointing out that trying to be become a remedial teacher by following this route isn't always fruitful, and people are generally advised to specialize in this area for best chances of finding employment.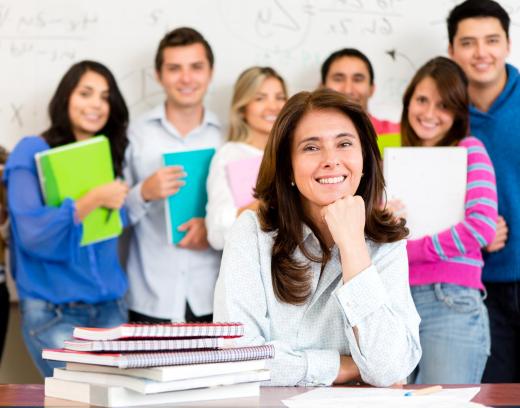 As mentioned, some people do simply work as private tutors or remedial teachers, and they may have a lot or a little education in this area. There does seem to be high demand for credentialed teachers, and in certain parts of the world, things like teaching English as a second language are extremely prized. Though it's possible to find remedial work without much training, people are really best off when they have recognized education and experience that proves their skill.
AS FEATURED ON:
AS FEATURED ON:
By: alphaspirit

A remedial teacher might be able to help a student struggling with complex math equations.

By: JenKedCo

Patience is an important trait for remedial teachers.

By: Marcel Mooij

Remedial teachers often focus on specific skills for a student to work on.

By: Andres Rodriguez

Some schools require remedial teachers to teach regular courses as well.

By: SWT

Remedial teachers may work with students who have attention disorders.