How do I Become a Stagehand?
There are a number of ways to become a stagehand, depending on where one wants to work. In some regions, for example, people who want to work as stagehands will need to join a union, and will not be able to find work otherwise. In other areas, non-union work is readily available, although people may opt to join a union to access certain benefits. In all cases, people who are interested in becoming stagehands should be physically fit and willing to work long, hard hours, including hours at unusual times.
One way to become a stagehand is to work from the ground up. People may opt to volunteer with community theaters and similar organizations to get some basic experience, to start right away working with professional theaters. Professional theaters will start trainee stagehands with very basic tasks so that they become familiar with the basics of the job, eventually allowing them to specialize in props, scenery, electric, sound, rigging, and other departments. In large urban areas, it may be necessary to join a union to work for a professional theater as a stagehand, in which case the process can be complicated by the process of applying for union membership.
Another option for someone who wants to become a stagehand is to go to school. Some vocational schools offer stagehand training, and people can also attend theater programs at colleges and universities to learn the trade. At the end of training, the graduate will be a fully competent stagehand who may have had opportunities to work on a wide variety of productions including dance performances, live theater, film, television, pageants, concerts, and so forth. With these qualifications, applicants can apply for jobs in their area of interest, along with applying for union membership.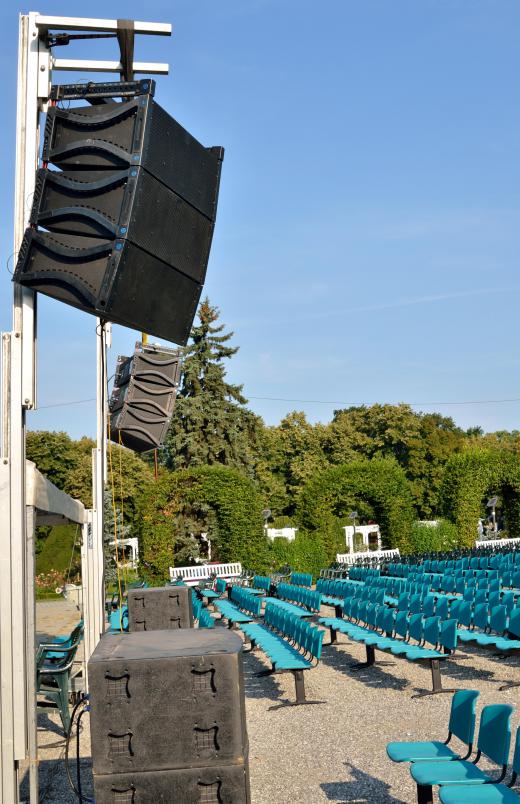 The community of stagehands can be insular, which can make this a difficult career to break into. Someone who wants to become a stagehand would be well served by establishing a broad network of friendships and connections, as otherwise it may be difficult to obtain union membership and to get jobs. Stagehands also need to choose between working in various venues and productions in a general area or for a single production company full time, as for example as an employee of the Metropolitan Opera in New York City.
A interest in production is also important for someone who wants to become a stagehand. It helps to understand the history behind the types of productions one works in, and to appreciate the arts, as an understanding of the productions they work on will help stagehands perform their tasks better.
AS FEATURED ON:
AS FEATURED ON:
By: s2artstudio

To become a stagehand, people may volunteer with community theaters to get some basic experience.

By: florinoprea

A stagehand may work for an amphitheater or other venue.