How Do I Become a Stuntwoman?
There is no surefire way to guarantee that someone can become a stuntwoman. However, there are steps that can be taken to improve the chances of success in this field. Due to the nature of this job, an athletic background of some kind is important, and being trained in a variety of stunt-related areas is also helpful. Knowing someone in the entertainment industry can also be extremely useful, and gaining experience will also help someone become a stuntwoman.
Stunts are physical and may be dangerous, so to become a stuntwoman, physical skills and a willingness to take risks are important. A background in sports is often helpful. Some of the common or most useful types of sports backgrounds are in gymnastics and martial arts. Other good physical and athletic skills to have include trampoline skills, motorcycle or car racing skills, and climbing skills.
Being trained in stage combat is another helpful qualification to have in order to become a stuntwoman. There are stunt schools in the U.S. that offer this type of training. These schools may also offer training in areas such as aerial stunts or weaponry. Some schools offer certifications as proof that the training has been completed, although there is no national regulatory or accreditation board for these schools.
It is also important for someone who wants to become a stuntwoman to get experience on a movie set. This can be accomplished by getting cast as an extra in various movies. This can also familiarize someone with a stunt coordinator, who is responsible for casting stuntwomen in films. Carrying a head shot and a resume is usually a good idea, so if the opportunity arises, they can be given to a coordinator. Information to provide in a resume includes sports, skills, and various accomplishments.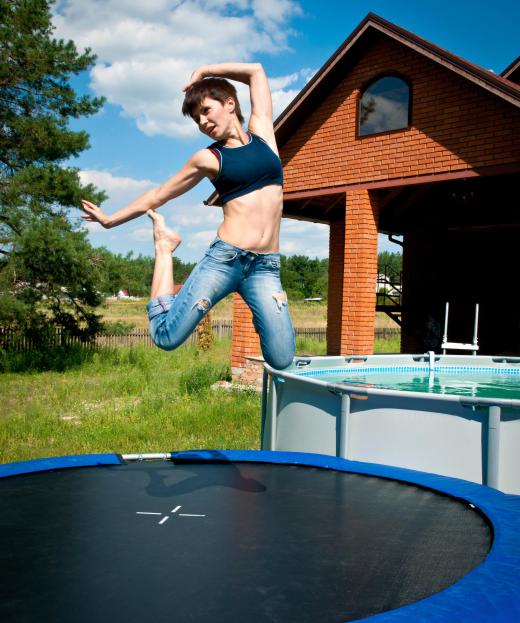 After performing as an extra, it may be possible to get cast as a special-ability extra, in which responsibility may increase. Making a video that shows someone performing stunts is another way to demonstrate abilities and skills. This also gives the stunt coordinator an idea of what someone looks like on camera and may improve the chances of being cast as a stuntwoman.
Networking with other stunt people can also help someone to become a stuntwoman. In the entertainment industry, it often helps to know people, so this is another way to improve one's chances of getting work. Most stunt performers belong to the Screen Actors Guild, which may be another way to network and meet people.
Doing research and acquiring knowledge about the business is another way to become a more desirable candidate to get work as a stuntwoman. Consistent training is also important in order to keep physical skills in good shape. As the business is not easy to break into, determination is another quality that an aspiring stuntwoman should possess in order to be successful.
AS FEATURED ON:
AS FEATURED ON:
By: Gorilla

A background in gymnastics may be helpful to become a stuntwoman, including trampoline skills.

By: Nikola Spasenoski

A stuntwoman should learn how to wield a range of weapons.

By: gekaskr

Stuntwomen are often skilled in using a trampoline.