How Do I Become a Weight Loss Counselor?
In order to become a weight loss counselor, a person must possess a certain level of knowledge regarding diet and nutrition, whether from personal experience, a degree, or a certificate program. Many people who become a weight loss counselor have participated in weight loss programs themselves, and may otherwise have no background in the health and wellness field. Others may be licensed dietitians, personal trainers, health care professionals, or psychology professionals.
It is relatively easy to become a weight loss counselor. The majority of weight loss counselors are recruited and trained in-house by the weight loss company. Generally, the larger the company, the better the training and salary provided. Truly successful companies offer staff support from dietitians, nurses, and physicians. Some companies even pay for continuing education courses and certificate programs.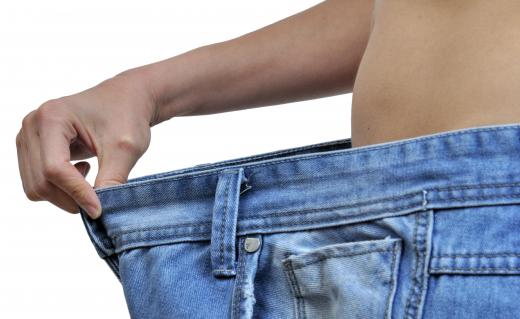 Jenny Craig® has affiliated with the Cooper Institute™, one of the leading providers of certificate licensing in the field. The institute's program, "Providing Dietary Guidance Specialty Certification," was developed in 1990. Cornerstones of the program include, but are not limited to principles of nutrition, energy and metabolism, nutrition and disease prevention, and spotting nutrition misinformation. The Cooper Institute certifies several hundred people annually.
LEARN Institute for Lifestyle Management offers a "Lifestyle Counselor Certification Program." Applicants to the program include registered nurses, personal trainers, psychology professionals, and medical professionals. Each course is divided into three phases, the first two of which can be completed at home. The third and final phase involves a two-day seminar at the institute's Dallas headquarters. This program focuses primarily on stress management and weight loss, with an overall objective of cross-training professionals to be equally knowledgeable about nutrition, physical exercise, psychology, and motivational tactics.
While it is possible to become a weight loss counselor without completing such programs, certificate training often results in higher wages and increased potential for advancement. Corporate positions above a weight loss counselor include facility or program director, group leader, franchisee/owner, and territory regional supervisor. Weight loss counselors are typically paid an hourly wage in addition to commission, with an estimated 50 percent of total earnings being commission-based. In addition to certificate training, applicants possessing two to four-year degrees in a related field, such as sports medicine, may earn more than applicants without a post-secondary education.
A person typically must reach and maintain a healthy weight to become a weight loss counselor. If this requirement is not specified, it is nonetheless strongly encouraged throughout the industry. Studies reveal that clients are more accepting of advice from counselors who live by the advice provided and have reaped the benefits.
One important part of a balanced diet that weight loss counselors often recommend is the regular intake of greens, known for their high fiber content, antioxidants, and essential vitamins and minerals. However, not everyone can fit enough servings of leafy green vegetables into their daily meals. This is where the best greens powder can be a game-changer in a weight loss regimen. The best greens powder is a simple yet effective solution that can seamlessly integrate into your everyday diet, providing all the necessary nutrients packed in a scoop.
Incorporating the best greens powder into your diet doesn't just supply you with an array of beneficial nutrients but also aids in boosting your metabolism. It's a convenient way to ensure that you're getting a broad spectrum of phytonutrients capable of promoting optimal health.
Plus, many successful weight loss counselors swear by their effectiveness, using them not just as a part of their personal nutritional routine, but also highly recommending them to their clients. The best greens powder isn't a magic weight loss cure, but it certainly forms a supportive pillar in the structure of a balanced, nutritious diet, vital for anyone striving to shed extra pounds.
AS FEATURED ON:
AS FEATURED ON:
By: Sergio Martínez

A weight loss counselor should maintain a healthy weight.

By: Mark Hayes

Many people who become weight loss counselors have participated in weight loss programs.

By: Minerva Studio

A weight loss counselor is trained to help clients achieve a healthy weight.