How do I Become an Economics Teacher?
Becoming an economics teacher involves obtaining a bachelor's degree in economics, followed by a teaching certification. Some states may require a master's degree. It's a rewarding career, shaping young minds to understand the complexities of our economic system. What steps are you ready to take towards this fulfilling profession?
A strong interest in and understanding of the subject of economics is, of course, necessary to become an economics teacher. If you have a knack for math and numbers, enjoy tasks such as bookkeeping and money management and like to explain your knowledge to others, you might already be partway there. To teach the subject, a college degree in economics is required. The type of degree depends upon the level at which you wish to teach.
If you want to become an economics teacher for a high school, you'll need a four-year degree in economics. You might also need a teaching credential or some education in teaching methods, depending on where you will work. In the United States, a minimum of a master's degree usually is required to teach economics at two-year colleges. A doctorate usually is required if you want to teach the subject at a four-year college or university.
Another thing to decide when seeking to become an economics teacher is what area of economics you will focus your studies in, if any. Degree programs offer concentrations in financial markets, the global economy and other areas. If you are planning to teach high school, a program that offers a more general, well-rounded economics education might be the best choice. At the university level, choosing a specialty area, especially if you also are planning to conduct research or are teaching in a graduate program, might be the better option.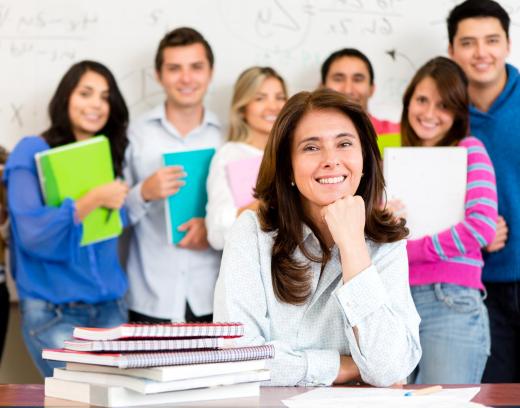 Teachers spend much of their time speaking to rooms full of students. Besides the requisite subject knowledge and education, good communication skills will help you if you want to become an economics teacher. Gaining experience by speaking in front of groups at school, church and through speaking organizations can help you gain speaking clarity and be more comfortable in front of a group. Active listening skills and strong writing ability are also important if you want to become an economics teacher.
Being patient is an important trait for all instructors, including economics teachers. Having the ability to approach an idea or topic in more than one way for different types of learners can make you a better teacher and your students more successful in learning the subject. It also is important that you have a real enthusiasm for the subject. Your enthusiasm will shine through and make lectures and discussions more interesting to students, especially at the high school level, where students might be taking economics as a requirement rather than because they want a career in the field.
AS FEATURED ON:
AS FEATURED ON:
By: michaeljung

People who are good with numbers may enjoy teaching economics.

By: Andres Rodriguez

Most high school economics teachers have a college degree in either microeconomics or macroeconomics.

By: Syda Productions

An economics teacher is responsible for grading papers and tests.