How Do I Become an Emergency Department Director?
An emergency department director oversees the day-to-day operations of an emergency medical facility such as a casualty or emergency room (ER) at a hospital. Someone wishing to become an emergency department director must undergo both medical training and some business or administrative training. Pay scales for directors vary based upon the size of the facility and whether the director is employed by a government agency or a private medical company.
Typically, an emergency medical director must have graduated college and completed a medical degree. Generally, directors begin their careers as physicians, completing a degree in medicine at an accredited university of college. In many countries, upon completion of a medicine degree, graduates have to enroll in medical school and successfully complete a medical training course which may last for up to four years. Normally, successful students must pass both a written and practical examination before completing medical school and beginning work at a hospital or other medical facility.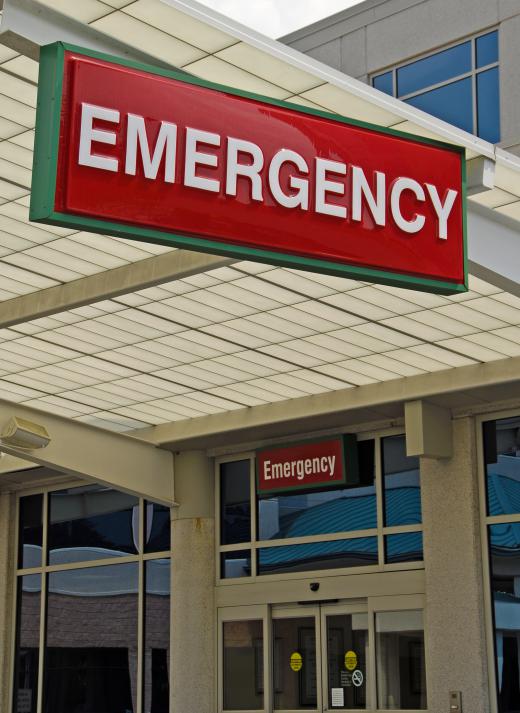 Medical school graduates normally spend some time working as interns in ERs or other medical facilities where they receive on-the-job training from established physicians. Upon completion of this training, graduates can begin to work as physicians, though many graduates continue their studies with additional courses specializing in a particular type of medical work such as heart surgery or internal medicine. Medical facilities hire physicians to fill director roles but many employers prefer directors to have job specific career experience. Consequently, in order to become an emergency department director, a physician may have to spend several years working in an ER or hospital.
A departmental director has to manage the facility's budget and make staffing decisions about hiring and terminating employees. The director also assumes responsibility for ensuring safety regulations are followed, that patients are billed correctly and many medical firms hold directors responsible for ensuring that high standards of customer service are maintained. To prepare for the role, a physician wishing to become an emergency department director must successfully complete a college degree in business, management or a related field. In some instances, directors at major facilities may even have to obtain an advanced degree in business or a similar field.
Directors are normally appointed by panels of government employees, company shareholders or medical facility benefactors and donors. Candidates wishing to become an emergency department director typically have to be interviewed by panel members and candidates may be required to detail their plans for improving standards at the facility. Some firms employ departmental managers or deputy directors in which case qualified physicians with business degrees may work for a time in one of these roles before transitioning into the director's job.
AS FEATURED ON:
AS FEATURED ON:
By: EyeMark

Day-to-day operations in an emergency room are overseen by an emergency department director.

By: Sanjay Deva

Medical school graduates wishing to become emergency department directors have spent time working as interns in ERs or other medical facilities.

By: storm

Emergency department directors may have experience as part of a first responder team.

By: Tatyana Gladskih

Emergency department directors often have experience responding to medical calls.

By: s_l

In many cases, the director of an emergency department began her career as a physician.