How do I Become an Undercover Detective?
Undercover detectives conduct covert surveillance operations and gather clues to catch criminals and investigate various personal matters. Most detectives work for police departments or private investigation firms, though some skilled professionals operate successful independent practices. A person who believes he or she wants to become an undercover detective must first decide whether to join a police force or a private agency. Police detectives are generally required to meet physical fitness standards and complete classroom and practical training at an academy, while private detectives must usually obtain college degrees and pass licensing exams administered by state or country governing boards. Computer skills, honesty, motivation, and a clean criminal background are necessary to work as an an undercover detective in any setting.
A person who wants to become an undercover detective can prepare for the career by developing strong communication and computer skills. Much of a detective's job involves communicating with clients, police officers, and witnesses about an investigation. A professional generally spends a lot of time conducting Internet research about suspects, such as looking up their criminal records on databases and searching maps to pinpoint their locations. While conducting investigations, undercover detectives often utilize computerized, electronic surveillance equipment such as video and voice recorders. A thorough understanding of computer technology ensures that a professional can perform his or her job effectively.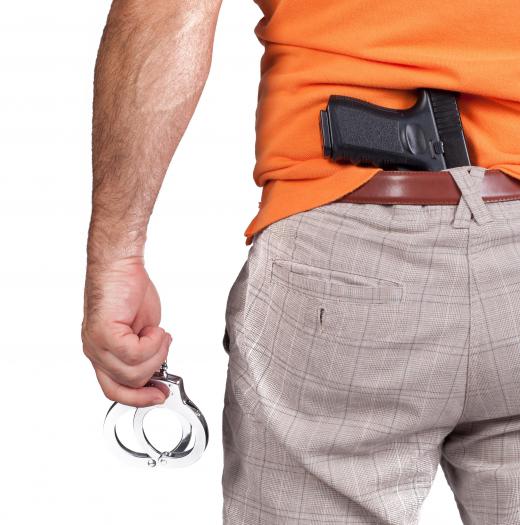 An individual who possesses the personal traits and skills necessary to become an undercover detective can choose to work in a police agency or private firm. Hopeful police detectives are typically required to hold high school diplomas, though some agencies prefer to hire people who have college experience in police science or criminal justice. New cadets usually attend police academies, where they learn about laws and procedures in a classroom setting and train in exercise facilities. Some academies allow hopeful detectives to join experienced professionals on patrols and surveillance jobs to get a better understanding of the tasks involved in investigative work. The length of academy training varies, but most programs take between 12 and 15 weeks to complete.
Most private investigation firms require new detectives to hold college degrees, though some individuals can obtain positions with high school educations and experience in similar jobs. A person who pursues a bachelor's degree in criminal justice or police science learns the basics of conducting investigations in accordance to local and federal laws. Many states and countries require new detectives to pass strict written licensing exams and gain supervised experience in the job before they are allowed to work independently. In addition, firearms training and certification are sometimes necessary to become an undercover detective in the private sector.
AS FEATURED ON:
AS FEATURED ON:
By: Pedro Monteiro

An undercover detective might become a police officer first.

By: stokkete

Private detectives need a license.

By: donserhio

Detectives must be able to interrogate suspects.

By: Mamuka

Undercover detectives will typically collect information about their targets.

By: Natalia Bratslavsky

Undercover detectives often have extensive service experience working on patrol.

By: jurra8

Undercover detectives typically receive training on how to handle and fire hand guns.

By: Lisa F. Young

A college degree in political science or criminal justice may help improve an individual's chances of becoming an undercover detective.

Quadcopters may be used for video surveillance.

By: Dmitry Lobanov

An aspiring undercover detective must be physically healthy.