How do I Choose the Best Computer Programming Courses?
There are four things to consider when looking for the best computer programming course: hands-on training, access to systems outside of classroom hours, qualified instructors, and certification. Computer programming courses are available from universities, community colleges, and online schools. There is a wide range of computer languages and new ones are created on an ongoing basis. A computer programmer is a skilled professional who has invested the time and effort required to learn the different computer languages.
When selecting a computer programming course, it is very important to read both the course description and the recommended prerequisites. This information is very helpful when deciding if the course is at the proper level of skill to meet your requirements. The course description often includes lecture topics, which will provide an overview of course expectations and deliverables.
The first item to check when looking for computer programming courses is to ensure that the classroom is set up with an individual computer workstation for every student. These computers do not have to be use the latest technology, but should be no more than one generation behind. Make sure that the systems are available for each class, and that students are able to save their work to a secured drive on the network.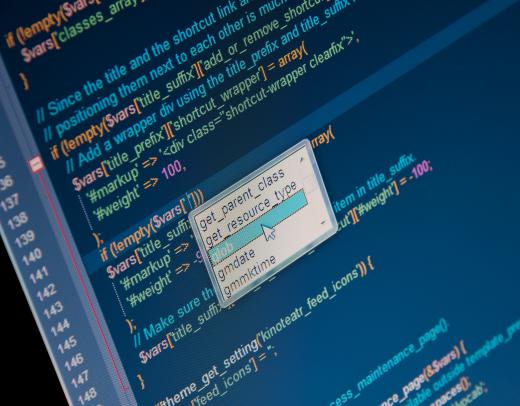 These courses often have assignments that must be completed off-campus. The school should have virtual private network or remote desktop options available to allow students to complete their work. Without this infrastructure, students will have to purchase and install the programming software on their own computer. These will inevitably cause version and operating system problems that will detract from the course work.
Someone who is a verified expert should teach all computer programming courses. This may include a published author, or the completion of certification programs at the instructor or expert level. There are a wide range of books available for all programming languages. The value of computer programming courses is with the access to short cuts, explanations, and context from an instructor.
There is a wide range of levels for computer programming courses. Personal interest courses often provide a completion certificate at the end of the process. Community college or university programs are often affiliated with an official certification or professional standards body. These courses may include an examination or assignment in order to obtain the certification. Keep in mind that these types of courses are more expensive, but are usually required for professional computer programmers.
AS FEATURED ON:
AS FEATURED ON:
By: Photo_Ma

Computer programmers often gain experience working on independent projects outside of the classroom.

By: Leo

Software developers should take several courses in writing code.

By: Anna

Computer programming courses often focus on a single coding language.

By: yanlev

Computer programming classes will require spending time in the computer lab outside of class.

By: diego cervo

Some computer programmers offer one-on-one training sessions.

By: Gajus

The best computer programming courses should have an individual computer workstation for every student.