How do I Choose the Best Dressmaking Courses?
Dressmaking is a useful skill to have. Being able to create clothing and make it fit perfectly is not only practical for dressing family members, but it is a moneymaking skill that any prospective custom tailor or seamstress should know. One of the best ways to learn this skill is to sample a variety of dressmaking courses.
Dressmaking classes should be chosen based upon a student's needs and desires. For someone who would like to make clothing for herself, or who is seeking to become a dressmaker in her community, a top-dollar school is not needed and may, in fact, be a waste of money. For someone who wishes to break into the industry of fashion and design, however, the extra knowledge from a higher degree and the prestige that comes with a well-known dressmaking school's name may make all the difference when it comes time to apply for a job. Good dressmaking courses should all offer the same information, including how to select proper fabric, drape the fabric over the customer and create custom patterns and dresses tailored to the client's needs and wants. Alterations are also a good skill to have, and many dressmaking schools will teach this invaluable lesson first.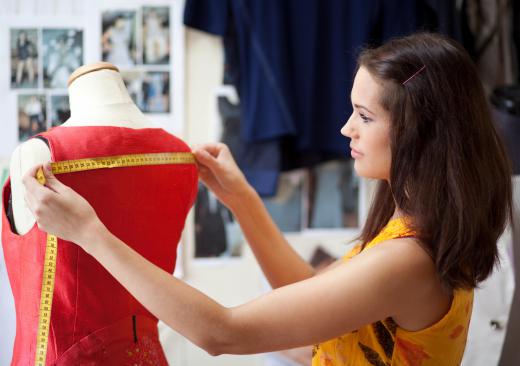 Dressmaking courses should also be chosen based upon the student's starting knowledge level. If the student has never sewn a day in her life, a course that teaches the basics as well as more advanced topics is ideal. If a student has more experience, a more advanced class will be of more use. Potential students are advised to speak with the instructor of a course about what will be taught before they enroll.
Some concepts that a student of dressmaking courses can expect to encounter are basic sewing skills, how to choose proper dressmaking fabric, how to drape the fabric over dressmaking dummies to discover the properties of the fabric, and how to create a proper dressmaking pattern from scratch. Students can also expect to become familiar with couture finishing techniques and a variety of dressmaking supplies, such as the Serger-style sewing machine.
Many colleges and universities that offer fashion design programs will also offer dressmaking courses as part of a larger degree program. Community and trade schools may offer courses on their own as part of a certificate or work skills program. Potential students may also find it of use to speak with local dressmakers and find out where they learned their skills. Online dressmaking courses are not recommended unless the student has all the advanced supplies and equipment available at their disposal and are already very comfortable with basic sewing concepts.
AS FEATURED ON:
AS FEATURED ON:
By: berc

Dressmaking courses can help students learn basic skills, like how to properly drape a fabric over a dressmaking dummy.

By: oillio29

Dressmaking courses educate students on fabric selection.