How do I Earn an Art Therapy PhD?
An Art Therapy PhD typically can be earned by completing all of the necessary coursework outlined by the university that offers the art therapy program. In order to be accepted to a PhD program, there usually is prerequisite coursework and an application process that every candidate must fulfill before he or she is admitted to attempt a degree. Every institution has its own set of guidelines for people who wish to earn a degree, but there are also standards set by national organizations that must be met in order to be certified as an art therapist.
Before any PhD can be attempted, there generally is a standard path that should be taken that begins with a bachelor's degree, which is usually completed within four years. Institutions in 15 states, including Arkansas, Pennsylvania, and New York, offer undergraduate programs in art therapy. It is not always necessary, however, to receive a Bachelor's Degree in Art Therapy to be admitted into an Art Therapy PhD program; some schools admit students as long as a certain amount of art and psychology classes have been taken. Like other bachelor's degree programs, general education requirements, such as English and math, are included in the overall coursework. It also could be helpful for students to participate in internships to gain experience in the field and ensure that it is a profession that appeals to them.
Once a bachelor's degree is earned, the next step typically is to complete a master's degree program. The American Art Therapy Association (AATA) and the Art Therapy Credentials Board (ATCB) are authorities in approving Art Therapy PhD and master's programs, and in administering examinations for certification. Before selecting an institution, it could be wise to make sure it is approved so certification may be obtained upon graduation.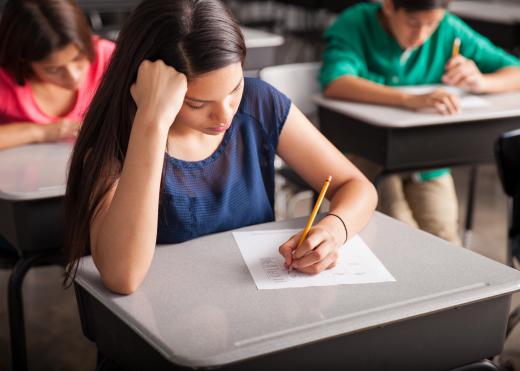 There are about 30 colleges in the United States and Canada that are approved by the AATA and each has its own set of guidelines for admission and completion. Some require applicants to submit Miller Analogies Test (MAT) results. The Miller Analogies Test focuses on solving problems with the use of analogies, which typically is important for anyone interested in fields relating to psychology.
Depending on whether or not all prerequisite coursework is completed before entering the master's program, and how much time can be devoted to school, it may take anywhere from one to four years to complete an Art Therapy PhD. Students enrolled in graduate art therapy classes can usually expect to spend a large amount of time observing interaction with patients and interacting with patients themselves. Emphasis is also placed on ethics, counseling, and the differences in treatment between children and adults. Most master's curriculum require a thesis or portfolio to graduate, of which art therapy is no exception.
While a career as an art therapist is possible with only a master's degree, continuing on to an Art Therapy PhD or doctoral program is also an option. Graduate Record Examination (GRE) or MAT scores usually are required along with a master's degree, related field experience, and certification to be considered as a PhD candidate. The amount of credits it takes to become a doctor varies with the amount of coursework that is completed beforehand and how many credits the institution requires, which typically is somewhere between 40 and 50 credit hours.
AS FEATURED ON:
AS FEATURED ON:
By: Zlatan Durakovic

Those trained in art therapy learn the differences in treatment between children and adults.

By: AntonioDiaz

Taking the GRE may be necessary for gaining admittance to an art therapy doctoral program.

By: Lel Soleil

Art therapists may work in a variety of mediums.

By: DragonImages

An art therapist may choose to work with children.