How to Get a Chauffeur License
Obtaining a chauffeur license involves a process of meeting specific requirements, including age and driving experience, passing written and practical tests, and undergoing a background check. It's crucial to understand your local regulations. What are the specific requirements in your area for obtaining a chauffeur license?
A chauffeur is technically any person who drives people around for a living. It is more specifically used to refer to people who do this in an upscale way, usually leaving out taxi drivers or other low-end chauffeurs, although technically they may also qualify. Therefore, a chauffeur would tend to be a limousine driver, or the driver of a private luxury sedan, or even a carriage. Getting a chauffeur license in the United States is relatively easy, although it does take more work than a standard driver's license.
The actual requirements for a chauffeur license depend on a number of factors, including the region one wishes to operate in, the type of vehicle one wishes to drive, and the amount of passengers one wishes to carry. Additionally, many limousine companies may require training far above and beyond what is technically required for the chauffeur license itself. This is to ensure a particularly high level of service, which tends to be expected from a chauffeur.
In the state of California, for example, the type of chauffeur license needed depends on how many people can be transported in a vehicle. For those who are planning on driving less than ten people at a given time, all a person needs is a Class C license, the normal automobile license, which functions as a chauffeur license. For anything more than ten people, a Commercial Driver's License (CDL) is required, which has its own test, and its own restrictions. For example, to be able to chauffeur people across state lines, you'll have to be at least 21, and you'll have to pass a Passenger endorsement as well.
In the state of New York, on the other hand, a chauffeur license is a Class E license, which is a taxi and livery license. In the city of New York additional restrictions apply, including a requirement of a defensive driving course, fingerprinting, a drug test, and no more than seven points on your license in the prior year and a half. The basic Class E license is good for any vehicle carrying less than 14 people, making it suitable for virtually all chauffeurs.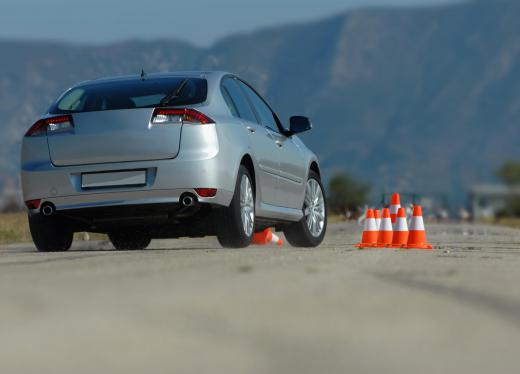 In addition to state restrictions, and some local municipalities like New York City, most companies desire an additional level of training. Although not technically part of the chauffeur license, which usually falls under some other commercial class, these courses are so required to be employed that they may as well be part of the license. Most reputable limousine services demand a high level of skill and knowledge from their employees, and there are schools set up specifically to train chauffeurs.
Classes include things like defensive driving and specialized avoidance courses, teaching drivers how to handle the often unwieldy vehicles driven as a chauffeur in dangerous situations like skids or oncoming traffic. These classes may also include things like proper etiquette and attire, as a chauffeur is generally expected to have a high level of formal dress, and to be able to interact properly with their clientele. Although becoming proficient enough to get a job at a good company as a chauffeur can be difficult, the payoff can be great, with the average salary for a senior chauffeur around $50,000 US Dollars (USD).
What Is a Chauffeur License?
A chauffeur license is a type of certification that shows you are legally allowed to operate particular kinds of vehicles. Why isn't a regular driver's license enough? Some vehicles are more challenging to maneuver than a standard car and may even have additional regulations governing their use. Additionally, many states require a chauffeur license to operate certain vehicles, and many insurance companies refuse to cover transportation companies that don't comply.
Special License
Many states classify a chauffeur license as a Special License, the scope of which goes above and beyond the basic knowledge you need for a regular driver's license. The exact Class depends on the state.
Commercial Driver's License
A CDL is a common requirement for transportation companies, but it's not the same as a Special License. While each state tracks Special Licenses, CDLs are recorded on a federal level. Additionally, CDLs are issued by states but are subject to both state and federal regulations. Drivers can only hold a CDL with one state at a time.
So, when is a CDL necessary? You need this type of certification to drive a commercial motor vehicle weighing more than 26,001 pounds.
What Is a Chauffeur?
A chauffeur is a person who gets paid to transport other people in vehicles. Some chauffeurs work for a company and drive many different people and cars. Others are private chauffeurs who work for one person. Private chauffeurs may have additional responsibilities depending on their contracts.
What Is the Difference Between a Chauffeur vs Driver?
Chauffeurs are a type of driver, but not all drivers are chauffeurs. One significant difference is the level of customer service required by the role.
In many cases, chauffeurs aren't just expected to operate a vehicle -- they're also responsible for ensuring their passengers have a pleasant experience. In fact, their role is closer to that of a butler than a driver.
Employment
Perhaps the biggest difference between a driver and a chauffeur is employment. Chauffeurs are specifically paid either by a company or directly by clients for their transportation services. Drivers may or may not be employed for their driving -- and most drivers aren't.
Passengers
Chauffeurs specifically transport passengers, sometimes dozens at once. Drivers, on the other hand, don't necessarily have other people in the car. For example, commercial drivers transport goods in semi-trucks and are paid to do so, but they don't have passengers. In some cases, they're expressly forbidden to have other people in the cab.
Training
Finally, chauffeurs are given specific training for their roles:
City geography
Car etiquette
Security awareness
Driving etiquette
Knowledge of landmarks, hotels and other locations
This training equips chauffeurs for the more butler-like aspects of the job. For example, clients may expect their chauffeur to be able to recommend a good restaurant for fine dining.
Other professional drivers may receive additional training, but it doesn't cover the same subjects. For example, individuals who pursue their CDLs must be able to name the parts of their semi-trucks and make visual inspections of the engine.
What Kinds of Job Can You Get With a Chauffeur License?
Once you get your chauffeur license, what kind of jobs can you apply for? There are plenty of career paths, and some can be pretty lucrative. For example, many chauffeurs earn tips for essentially hosting in-vehicle parties or transporting guests to big celebrations.
What if you don't want to work for a big company? Getting your chauffeurs license can help you go independent. Plenty of chauffeurs work as contractors, which means they get to make their hours.
Limousine Driver
When people picture a chauffeur, they probably think of a limousine driver. Limousines are a status symbol and evoke luxury and elegance. Limousine drivers are usually dressed to reinforce this image.
Many transportation companies offer limousines for a variety of purposes:
Transportation to the airport
Transportation to important events such as weddings and business conventions
Parties contained within the vehicle
Transportation Company Owner
If you're an entrepreneur, you can start your own transportation company. You can work as an independent contractor and take work on your terms, or you can hire drivers to use your vehicles.
Tour Bus Driver
Many famous landmarks and big cities are home to tour companies. People can pay for a guide to take them around the area to significant locations. Tour bus drivers fulfill this role and, in some cases, also act as tour guides. If you decide to become a tour bus driver, you'll drive the same route multiple times a day and be expected to keep a strict schedule.
School Bus Driver
School bus drivers take kids to and from school daily. They also drive buses for field trips and transport school teams for sports events.
Frequently Asked Questions
What are the requirements for obtaining a chauffeur's license?
You must be at least the legal drinking age in your state and have a current driver's license and a spotless driving record in order to be granted a chauffeur's license. You may also have to pass a background investigation and provide documentation of your citizenship or legal status.
What type of education is necessary to work as a chauffeur?
The state- and employer-specific training requirements for chauffeurs differ. Yet, the majority of states mandate that chauffeurs complete a certain number of hours of training in areas like defensive driving, driver safety, and passenger safety. In order to prove their driving abilities, chauffeurs may also need to pass a written test and a road test.
How do I prepare for the chauffeur's license test?
You should review the laws of the road, traffic signals, and passenger safety protocols in order to be ready for the chauffeur's license exam. You may be able to get study resources online or at your local Department of Motor Vehicles, where you can even take practice exams (DMV). Reviewing your state's particular criteria for the driver's license may also be beneficial.
What paperwork must I submit to get a chauffeur's license?
Your driver's license, evidence of insurance, and a copy of your driving record will probably be required in order to apply for a chauffeur's license. Other evidence needed by your state or company, such as confirmation of your citizenship or legal status, may also be requested.
What are some typical duties performed by a chauffeur?
Transporting passengers securely to their destination is the chauffeur's main duty. In addition to driving, chauffeurs may also be in charge of keeping the car tidy and well-maintained, helping passengers load and unload baggage, and giving exceptional customer service. Chauffeurs may also need to be familiar with the region's sights and happenings in order to propose them to passengers, depending on their company.
AS FEATURED ON:
AS FEATURED ON:
By: Konstantin Sutyagin

A chauffeur refers to an individual who drives people around for a living.

By: Marina Krasnovid

An individual will be required to be fingerprinted before acquiring a chauffeur's licence in New York.

By: algre

An individual may be required to pass a defensive driving course before acquiring a chauffeur's license.

By: lassedesignen

In New York, a chauffeur license is a Class E license, which is a taxi license.

By: Kzenon

In some states, the type of chauffeur license needed will depend on the number of people being transported.