How do I get a Defensive Driving Certificate?
There are a number of ways to get a defensive driving certificate. Generally, a course must be taken before certification is given. Courses are offered online or in-person. The location and type of course depends largely on why the student is pursing a defensive driving certificate. Courses can take as little as a few minutes to complete, or up to several months.
Courses can be taken for a number of reasons. Professionals who drive on the road regularly, like delivery and bus drivers, often take these courses to satisfy employer requirements. Parents encourage teens and beginner drivers to get a defensive driving certificate to increase their safety on the road, and sometimes to get lower car insurance rates. In the United States, one of the most common reason for taking a defensive driving certificate course is to satisfy state-mandated requirements for people who are in danger of losing their license.
There are online schools that offer courses without road testing. Courses can be sent via streaming video, and tests taken online or over the phone. These courses are most popular with those who are required to take driving courses to remove points from their driving record, or regain their driver's license if it has been revoked. Not all courses are approved for these purposes in all states within the United States, so anyone taking the course to restore a license should be sure that it is certified in their particular state.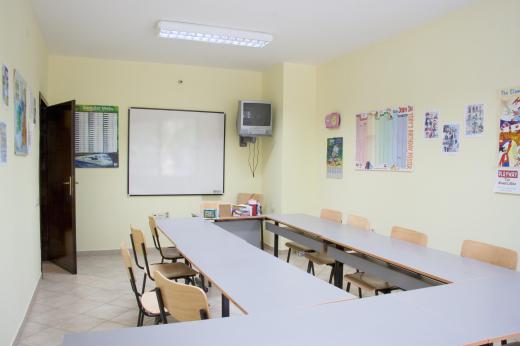 It is also possible to take an in-person defensive driving course to get a defensive driving certificate. Sometimes the course is completely classroom-based, while others are taken nearly entirely on the road, with an instructor. The number of hours spent training often depends on how the institute or school designed the course; the purpose of the course; and the regional requirements needed to earn an official defensive driving certificate. Courses intended solely to teach safety are usually longer and more extensive. The course usually culminates in an official exam.
During the course, students are taught strategies to avoid accidents. The program generally covers proper safe-driving techniques, like maintaining safe spaces between cars and proper signaling. Driving in dangerous weather conditions, like snow and ice, are also usually addressed. On top of personal actions, instructors teach students to stay safe by observing their environment and the actions of the other drivers on the road. The core part of a defensive driving course is to learn to take defensive action when an accident is imminent.
AS FEATURED ON:
AS FEATURED ON:
By: Nneirda

Knowing how to drive in different weather conditions is usually covered in a defensive driving course.

By: Ljupco Smokovski

Defensive driving courses usually begin in the classroom, and some move on to in-car training.

By: Tomasz Zajda

You could consider an in-person defensive driving course as a way to earn a defensive driving certificate.

By: peshkova

Defensive driving class can lower a driver's insurance bills and help them drive more safely.