How do I get Flight Attendant Training?
The only legitimate way to get flight attendant training is directly from the airline that hires you. There are multiple independent schools that offer training programs and certificates, but they are viewed as scams by insiders in the aviation industry. The only educational requirement to become a flight attendant is a high school diploma or equivalent and many airlines view hiring flight attendants from outside programs as a liability because they have to retrain them for their business.
Independent programs may help an aspiring flight attendant prepare for an interview and understand general crew procedures but they are not able to offer company-specific training, nor are they certified by the Federal Aviation Administration (FAA). Once you are hired with an airline you will be required to attend three to six weeks of FAA-approved flight attendant training that will usually, but not always, be paid by the airline employing you. As of 2009, most of the major airlines send their flight attendants to train at one of the three Flight Safety locations in the United States or their international location in Paris.
Flight Safety is an FAA-approved worldwide aviation training company that trains not only flight attendants, but pilots, too. They customize their program for each airline they work with; however, the following subjects will usually be covered in some way:
Aviation terminology — Everyday terms and industry jargon that is necessary to learn to work in the industry.
Time conversion — Flight attendants must learn time conversion because they are frequently crossing time zones and many times specific to their job are based on Greenwich Mean Time.
Applicable areas of CFR — The Code of Federal Regulations (CFR) are rules made by the FAA that flight attendants must become familiar with.
Weather conditions and turbulence — Flight attendants must understand weather phenomena and how they affect the movement of an airplane so they can relay it to concerned passengers.
Hazardous materials (HAZMAT) — Flight attendants must learn to recognize HAZMAT in the event that a passenger mistakenly or purposefully tries to board a plane with it.
Physiology — Decompression and high altitude have very specific effects on the human body that a flight attendant must be familiar with in the case of a loss of pressurization in an aircraft.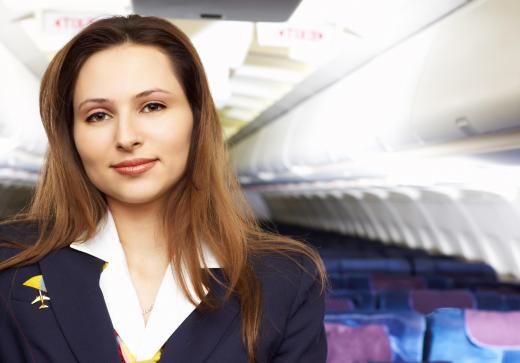 Basic evacuation principles — Flight attendant training is not complete without learning how to regularly evacuate an aircraft and how to evacuate in the case of an emergency. In addition to basic principles, flight attendants will learn how to evacuate, or "ditch," an aircraft in a water landing.
Aircraft familiarity — Flight attendants must become oriented with the specific aircraft they will be working on. They must also learn about aircraft equipment, furnishings, systems and exits.
Fire safety and first aid — All flight attendants must take part in flight attendant training and drills that deal with aircraft fires, firefighting, first aid and cardiopulmonary resuscitation (CPR).
Flight attendant duties — Learning standard flight attendant duties and responsibilities such as cabin preparation for take-off and landing, announcements and beverage service.
Security — Security concerns such as hijackings and bomb threats require that flight attendants acquire specific knowledge to handle these situations.
Crew resource management — Crew resource management training gives flight attendants the tools to communicate and effectively make decisions with other crew members they are flying with.
AS FEATURED ON:
AS FEATURED ON:
By: Ruslan Olinchuk

Flight attendants must learn time conversion because they are frequently crossing time zones.

By: starush

Airlines typically offer flight attendant training.

By: zimmytws

A person must have a high school diploma to begin flight attendant training.