The Ultimate Showdown: Pettable vs CertaPet ESA Services Compared
At a Glance
The Bottom Line: I had a very positive experience getting my ESA letter with Pettable, thanks to their fast and affordable service, careful compliance with federal and state laws, and helpful customer service team and mental health practitioners. 
Although CertaPet offers a similar service, they do not offer a complete money-back guarantee, and their website is not very transparent. However, Pettable currently only serves customers in the United States (including Puerto Rico and D.C.), so Canadian customers should consider CertaPet as an alternative.
An official Emotional Support Animal (ESA) Letter verifies that you have a recommendation from your healthcare provider for an emotional support animal to help you cope with symptoms of an emotional or mental disability. This letter provides proof for landlords that your dog, cat, or other furry friend is an assistance animal entitled to a reasonable accommodation under the Fair Housing Act. An official letter is also necessary to qualify for ESA programs offered by some airlines.
Several online services can help you get a genuine ESA document. In this review, we'll look at Certapet and compare it with another online ESA service: Pettable.
My Search for the Best Online ESA Letter Provider
When I decided to move to a new apartment last year, I knew I would need an emotional support animal (ESA) letter to ensure that I could live with my emotional support dog, Andi, in my new home. For the past few years, Andi's presence has become vital in helping me live a full life despite my anxiety issues, and I can't imagine moving somewhere without her. 
For anyone else considering a move with their emotional support animal, you'll want to look into getting an official ESA letter for housing. A quick Google search reveals that several online ESA letter providers can help you get a legitimate document verifying your need for an ESA. I spent a significant amount of time researching the various companies offering this service.
In this article, I'll compare the process of getting an ESA letter from Pettable versus CertaPet, two of the most popular online ESA letter providers. And I'll explain why I ultimately chose Pettable to make sure that Andi and I could continue to live together, no matter where the future takes us.
Do You Need an ESA Letter?
An ESA letter verifies that you have a recommendation from your healthcare provider for an emotional support animal to help you cope with symptoms of a mental health condition or emotional disability, such as depression, PTSD, bipolar disorder, phobias, and many others. 
A valid ESA letter is proof for landlords that your dog or cat (or any other ESA you rely on for support) is not just a pet but an assistance animal entitled to reasonable accommodations under the Fair Housing Act. Specifically, you are allowed to live with your ESA even in "no pets" housing and avoid pet fees. 
Although an ESA letter does not guarantee that your emotional support animal will be allowed to accompany you to shops, restaurants, and other public places (including commercial aircraft), it can still be helpful when discussing your situation with the owner or manager of a venue.
What Is Pettable?
Pettable is an online service that helps qualifying individuals obtain a legitimate emotional support animal Letter. The website connects clients with licensed mental health professionals (LMHPs), who can determine whether they qualify for an ESA letter. If so, the LMHP will write an official ESA letter that can be used for housing purposes. An emotional support animal letter from Pettable is compliant with all state and federal laws.
How Does Pettable Work?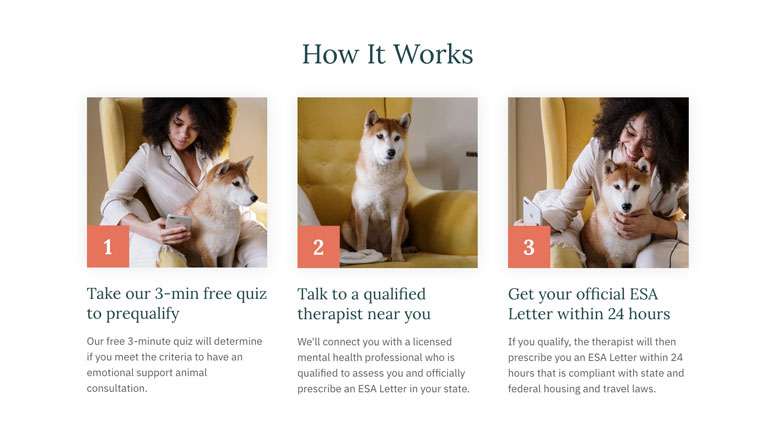 There are three main steps involved in getting an ESA letter from Pettable: 
Quiz: Take a short online prequalification quiz to see if you are eligible for an ESA letter.

Consult: Complete a live consultation with an LMHP who can evaluate your mental or emotional health needs and determine if you meet the criteria.

Letter: Receive a legitimate ESA Letter within 24 hours if the LMHP determines that you qualify.
How Much Does Pettable Cost?
Pettable offers its standard ESA letter that you can use for housing and other needs for a price of $149. Pettable offers a risk-free guarantee: they will refund your entire payment if your ESA letter doesn't work for you.
Is Pettable Legit?
Yes. Pettable connects you to a mental health professional who is licensed in your state and knowledgeable about emotional support animals and ESA regulations. Pettable requires you to complete a live evaluation with an LMHP before you get your letter, something that scam sites falsely claim isn't necessary.
Pettable's ESA letters are compliant with the Fair Housing Act (FHA), the Air Carrier Access Act (ACAA), and HIPAA regulations. They are written on official letterhead and include the provider's license information and signature.
Does Pettable offer a psychiatric service dog letter?
A psychiatric service dog (PSD) is a service animal that performs at least one function associated with helping an individual with a physical, mental, or emotional disability. In addition to performing specific tasks, PSDs also offer their owners companionship and help alleviate the symptoms of mental health issues. 
In many ways, psychiatric service dogs are similar to emotional support animals, but they require specialized training that ESAs don't need. Furthermore, they are allowed to accompany their owners in public places (including commercial aircraft, as long as the owners follow the airline's policies), though a PSD letter can be helpful for easing the process. 
Pettable offers a similar process for people seeking a PSD letter. To get a PSD letter, you need to schedule a consultation with a licensed therapist or qualified medical practitioner. Pettable can connect you with a qualified health professional and schedule a consultation for you via phone or video call. 
If the mental health professional determines that you would benefit from having a PSD, they can issue you an official letter. The cost is $199, and you will also be entitled to Pettable's satisfaction guarantee.
My Take on Pettable
Pettable is a legitimate website that helps qualified clients obtain ESA letters that are compliant with relevant federal and state laws. Pettable doesn't try to sell unnecessary services such as "certification" or "registration" for your emotional support dog, cat, or another animal.
The company also provides clients with access to continuing support. Their therapists and customer service professionals can help if your landlord questions your ESA letter. In fact, they'll even have their customer service team speak to your landlord on your behalf if they query your situation. And if your ESA letter doesn't work as intended, Pettable will refund your money.
Advantages of Pettable
Online prequalification quiz that asks mental health questions but doesn't require you to provide your name, birth date, or other personal information
Full money-back guarantee
ESA letters meet all state and federal regulations
Top-notch customer support, including email or phone assistance if you get pushback about your letter
Quick turnaround time – you can get your letter in as little as 24 hours after qualifying
Access to a dedicated customer service team. This can be especially helpful if you are worried about presenting your letter to your landlord. Pettable's team is willing to call your landlord to verify the validity of your letter and the legal protections it provides
Disadvantages of Pettable
You must go through the online quiz and provide an email address and phone number to see pricing options
Some user reviews mention receiving numerous marketing emails
You must pay in full before your consultation. However, Pettable will refund 100% of the cost if you don't end up qualifying for an ESA letter after speaking with the LMHP.
What Is CertaPet?
CertaPet is an online provider of ESA letters. CertaPet's service is similar to that of Pettable; it connects customers with medical professionals who provide a mental health diagnosis, an emotional support animal recommendation, and a compliant ESA letter.
How Does CertaPet Work?
Like Pettable, CertaPet's ESA letter process consists of three steps:
Screening: Take a short online screening test to determine if you're a good candidate for an ESA letter.

Evaluation: Get evaluated through a telehealth appointment with a licensed therapist or LMHP in your state.

Letter: If approved, receive a "custom treatment plan" that includes an ESA letter shipped to you within 48 hours.

How Much Does CertaPet Cost?
CertaPet's pricing is the same as Pettable's. A single ESA Letter for housing purposes is $149.
Is CertaPet Legit?
Yes, CertaPet appears to be a legitimate service that meets all of the legal requirements for prescribing an ESA letter, including a live evaluation with an LMHP. CertaPet's letters meet FHA, ACAA, and HIPAA regulations. The website doesn't advertise any unnecessary services, such as emotional support animal certification or registration.
Does CertaPet Offer a Psychiatric Service Dog (PSD) Letter?
Yes, CertaPet offers consultations with LMHPs to determine whether the client qualifies for a psychiatric service dog letter that can be used for travel purposes.
Our Take on CertaPet
CertaPet provides genuine ESA letters to qualified individuals, and their pricing is relatively competitive. However, there are a few reasons why I was less confident about this company. 
They don't appear to guarantee their letters, and if you aren't approved for an ESA letter, they keep a significant portion of your initial payment. Additionally, if for some reason you are deemed unresponsive, they have the right to reject you for an ESA letter and not offer you a full refund.
It's also difficult to tell who actually works for CertaPet. There are no photos of the team, the company founders, or any of their mental health professionals. Most of the website photography appears to be stock, which didn't fill me with confidence. 
The combination of not knowing who is behind the company and certain portions of the service being non-refundable made me somewhat skeptical.
To my knowledge, CertaPet's letters are legitimate, and their practices follow the right standards. Still, if you're investing in getting an ESA letter you can trust, it's important to feel confident about the provider you're getting it from.
Advantages of CertaPet
The service is open to clients in Canada and Puerto Rico, in addition to clients in all US states
The CertaPet site provides a lot of useful information about ESAs and relevant laws.
Quick process: you can schedule a phone consultation within a couple of days of completing the online quiz
Offers evaluations for both ESAs and PSDs
You can print a digital copy of your ESA letter immediately after qualifying (you can request a mailed copy, too)
Disadvantages of CertaPet
You must pay the entire letter fee before completing your evaluation
If you don't end up qualifying for an ESA letter after your evaluation, you don't get a full refund—CertaPet keeps a "consultation fee" of $35
There appear to be additional fees, including for multiple support animals 
CertaPet's money-back guarantee only covers the consultation; you can't get a refund if you qualify for a letter and then it doesn't work as anticipated
It's not clear who runs the company or who the LMHPs are
Pettable vs. CertaPet: Which Is Better?
Pettable and CertaPet use a similar process to help qualified individuals get official ESA and PSD letters for a similar price. Both use a prequalification quiz followed by a telehealth appointment with a licensed mental health professional. 
However, there are a few key differences that made me ultimately choose Pettable over CertaPet. The biggest reason I chose Pettable as the ESA service provider for me was that the company and the ESA letter process are more accommodating and transparent. I was able to learn all about the Pettable team from its website, which I couldn't do with CertaPet. 
I was also far more confident in Pettable's money-back guarantee and the fact that they would help me if there was a pushback from a landlord when presenting them with my ESA letter. 
Frequently Asked Questions
Here are some answers to frequently asked questions regarding support animals, ESA letters, and more.
What is an emotional support animal?
An emotional support animal is a cat, dog, or other animal that offers companionship and support to its owner to help ease the symptoms of a mental health condition. Unlike service animals, ESAs don't require special training.
What are the benefits of having an ESA?
Emotional support animals can provide a variety of benefits for people with mental health conditions, including reducing feelings of anxiety, depression, and loneliness. ESA owners may also experience improved moods, increased socialization, and a greater sense of purpose and responsibility. Additionally, having an ESA may even help some people manage their symptoms without relying on medication or other treatments.
How do you qualify for an emotional support animal?
Anyone can get an emotional support animal, but to qualify for a genuine ESA letter, a person who experiences mental health struggles like depression, anxiety, or panic attacks must have a consultation with a licensed mental health professional. ESA letter providers like Pettable help clients complete the process completely online. 
How do you get an ESA letter?
An ESA letter is an official acknowledgment that your ESA helps you cope with the symptoms of your mental health struggles. A legitimate service will set up a consultation between you and a licensed therapist and then issue a letter if you qualify. With an official letter, landlords must accommodate emotional support animals and waive pet fees.
How do I know if my ESA letter is legit?
You will know that your letter is legit if you have a consultation with a licensed medical professional before you receive your letter. Your letter will need your clinician's signature, the date, and their medical credentials. The letter will be printed on official letterhead.
How do you qualify for a psychiatric service animal?
If you feel that you would benefit from the assistance of a PSD, you will need to schedule a consultation with a licensed health professional. Federal regulations state that an official letter must be the result of a consultation with a licensed professional, whether you find the doctor on your own or through a web-based company. 
After your consultation, your doctor will determine if you would benefit from owning an assistance animal. All PSDs need to complete training before they can assist their owners in public. 
What is a psychiatric service dog (PSD) letter?
If a medical professional determines that a person would benefit from having a trained PSD, the medical professional will issue an official letter that can be used to help you travel and live with your PSD.
Are Pettable and CertaPet legitimate companies?
Yes, both Pettable and CertaPet are legitimate companies that offer services related to emotional support animals and psychiatric service animals. Their ESA and PSD letters can be used as official documentation for your landlord regarding your need for an assistance animal.
Learn More: Emotional Support Animals vs. Service Animals
Emotional support animals are different than service animals. Understanding the difference between an ESA and a service animal is vital for understanding how services like CertaPet and Pettable work. While ESAs and PSDs can serve similar purposes, there are other requirements to consider.
All About Service Animals
A service animal is recognized by the Americans with Disabilities Act (ADA) and Section 504 of the Rehabilitation Act. Service animals require training to assist individuals who have disabilities. Service animals perform different tasks, such as:
Pulling a wheelchair
Offering physical support
Assisting individuals with balance
Interrupting behavior that could be destructive
Performing acts to help with visual and hearing aids

Generally speaking, there are only two animals that the ADA recognizes as service animals: dogs and miniature horses. Although the ADA recognizes miniature horses, they have slightly different standards than service dogs.
The guiding principle for a service animal is that it must perform a task directly related to an individual's disability. The ADA also requires service animals to have individual training related to the tasks they need to do. They do not have to be professionally trained but require specific training for their jobs. 
Qualifying for a Service Animal
It's not complicated to apply for a service animal. In fact, there are a lot of similarities between applying for a service animal and an ESA. Qualifying for one is more difficult, but you shouldn't have a problem if you have a legitimate need. 
To qualify for a service animal, you need written documentation from your doctor that you are receiving treatment for a disorder or disability that qualifies you for a service animal. This includes physical disabilities as well as some emotional or psychiatric disorders.
Top Breeds for Service Animals
Because service animals are almost entirely made up of dogs, it's possible to determine the most popular breeds for service dogs. Some breeds are better suited for work as service dogs than others. 
For example, the Labrador Retriever is the most popular breed for a service dog in the United States because they are generally intelligent and easy to train. The breeds that are most frequently used as service dogs include:
Labrador Retriever
German Shepherd
Golden Retriever
Poodle
Bernese Mountain Dog
Great Dane
Collie
American Staffordshire Terrier
Pomeranian

The ADA does not restrict the dog breeds that qualify as service dogs. Technically, any dog breed can work as a service dog if adequately trained. However, there are some breeds that you want to avoid if you need a good service dog. 
For example, certain terrier dogs can be so independent and stubborn that training may be too challenging. Other breeds, like the Siberian Husky, are cute and affectionate but incredibly high-maintenance. This makes them a less-than-ideal breed choice for service animals. 
Other breeds to avoid include:
Blue Heeler
Weimaraner
Akita
German Shorthaired Pointer
Pharaoh Hound
All About Emotional Support Animals (ESAs)
Emotional support animals have different requirements. The ADA does not recognize them, and there are not the same species limitations as for service animals. ESAs do not need to perform specific tasks, nor do they require special training.
Anyone can get an emotional support animal to help ease the symptoms of a mental health condition, such as depression, anxiety, PTSD, substance abuse, phobias, learning disorders, autism, panic attacks, and cognitive disorders. 
Top Breeds (and Species) for Emotional Support Animals
Unlike service animals, ESAs range across different species as well as dog breeds. Some of the best dog breeds for emotional support animals include:
Labrador Retriever
Poodle
English Toy Spaniel
Pugs
Dachshund
Yorkshire Terrier
Golden Retriever
For those looking for an ESA other than a dog, there are plenty of viable options. Although cats, rabbits, and other small animals are the most popular, other ESA options include turtles, hedgehogs, ferrets, miniature horses, donkeys, and birds. 
While technically any animal can be an ESA, they are generally limited to animals that can be domesticated.