Pettable vs. Certapet: An Honest Comparison Review
An official Emotional Support Animal (ESA) Letter verifies that you have a recommendation from your healthcare provider for an emotional support animal to help you cope with symptoms of an emotional or mental disability. This letter provides proof for landlords that your dog, cat, or other furry friend is an assistance animal entitled to reasonable accommodation under the Fair Housing Act. An official letter is also necessary to qualify for ESA programs offered by some airlines.
Several online services can help you get a genuine ESA document. In this review, we'll look at Certapet and compare it with another online ESA service: Pettable.
What Is Pettable?
Pettable is an online service that facilitates getting a legitimate Emotional Support Animal (ESA) Letter. The website connects each client with a Licensed Mental Health Professional (LMHP) who can determine whether they qualify for an ESA. If so, the LMHP writes an ESA Letter that meets legal regulations.
How Does Pettable Work?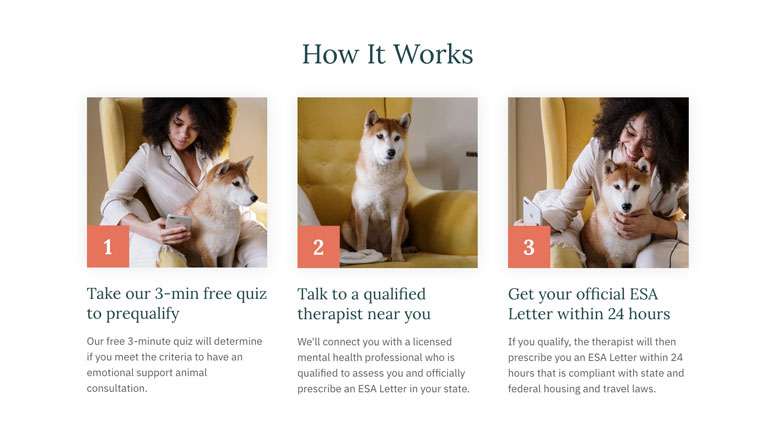 To get an ESA Letter through Pettable, you go through three steps:
Take a 3-minute online prequalification quiz designed to see if you may be eligible for an ESA.
Complete a live consultation with an LMHP who can evaluate your mental or emotional disability and determine if you meet the criteria for an emotional support animal.
Receive a legitimate ESA Letter within 24 hours if the LMHP determines that you qualify.
An emotional support animal letter from Pettable is compliant with state and federal laws.
How Much Does Pettable Cost?
Pettable offers ESA Letters for both housing and travel purposes. Each letter costs $149, but you get a discount if you purchase both. The housing and travel package is $199. Pettable offers a risk-free guarantee – they will refund your entire payment if your ESA Letter doesn't work for you.
Is Pettable Legit?
Yes. Pettable connects you to a mental health professional who is licensed in your state and knowledgeable about emotional support animals and ESA regulations. This provider requires you to complete a live evaluation with an LMHP before you get your letter, something that scam sites claim isn't necessary (although it is).
Pettable's ESA Letters are compliant with the Fair Housing Act (FHA), the Air Carrier Access Act (ACAA), and HIPAA regulations. They are written on official letterhead and include the provider's license information and signature.
Our Take on Pettable
Pettable is a legitimate website that provides qualified patients with an ESA Letter compliant with relevant federal and state laws. It doesn't try to sell any unnecessary service, such as "certification" or "registration" for your emotional support dog, cat, or another animal.
The company also provides clients with access to continuing support. Their therapists and customer service professionals can help if your landlord or travel provider questions your ESA Letter. If your ESA Letter doesn't work as intended, Pettable will refund your money.
Advantages of Pettable
Pettable offers several unique advantages:
Online prequalification quiz that asks mental health questions but doesn't require you to provide your name, birth date, or other personal information
Full money-back guarantee
Compliant ESA Letters that meet state and federal regulations
Top-notch customer support, including email or phone assistance if you get pushback from other parties about your letter
Quick turnaround time – you may get your letter in as little as 24 hours after qualifying.
Having access to a dedicated customer service team can be especially helpful if you are worried about presenting your letter to your landlord. Pettable promises that their team is willing to get on a call with your landlord to verify the validity of your letter and the legal protections it provides.
Disadvantages of Pettable
There are some minor drawbacks with Pettable:
You must go through the online quiz and provide an email address and phone number to see pricing options.
Some user reviews mention receiving numerous marketing emails.
You must pay in full before your consultation. However, Pettable will refund 100% of the cost if you don't end up qualifying for an ESA Letter after speaking with the LMHP.
For most people, the pros of Pettable will likely outweigh the cons.
What Is Certapet?
Certapet is an online provider of ESA Letters and is the "#1 Emotional Support Letter Service," according to its website. Certapet's service is similar to that of Pettable – it connects customers with medical professionals who provide a mental health diagnosis, an emotional support animal recommendation, and a compliant ESA Letter.
How Does Certapet Work?
Like Pettable, Certapet's process is broken down into three steps:
Take a short online screening test to determine if you're a good potential candidate for an ESA Letter.
Get evaluated through a telehealth appointment with a licensed therapist or LMHP in your state.
If approved, get a "custom treatment plan" that includes an ESA Letter shipped to you within 48 hours.
How Much Does Certapet Cost?
Certapet's pricing is the same as Pettable's. A single ESA Letter for either travel or housing purposes is $149. You can choose a package with both letters for a discounted price of $199.
Is Certapet Legit?
Certapets claims it is a legitimate service, and its process seems to meet all the legal requirements for prescribing an ESA Letter, including a live evaluation with an LMHP. Certapet's letters meet FHA, ACAA, and HIPAA regulations. The website doesn't advertise any unnecessary services, such as emotional support animal certification.
Our Take on Certapet
Certapet gives every indication of being a legitimate provider of ESA Letters. They require clients to complete an evaluation with an LMHP, and they don't try to sell ESA "certifications" or other pointless services. Certapet accepts clients from the U.S., Puerto Rico, and Canada. The website states that Certapet is BBB Accredited.
Advantages of Certapet
Here are some of the benefits of Certapet:
The service is open to Canada and Puerto Rico, in addition to the rest of the USA.
The Certapet site provides a lot of valuable information about ESAs and relevant laws.
The process is quick – you can schedule a phone consultation within a couple of days of completing the online quiz.
Certapet offers the option to get evaluated for another type of service animal: a psychiatric service dog.
You can print a digital copy of your ESA Letter immediately after qualifying, and you can request a mailed copy as well.
Certapet's online process for getting an ESA Letter is simple and straightforward.
Disadvantages of Certapet
Certapet's service has a few drawbacks:
You must pay the entire letter fee before completing your evaluation.
If you don't end up qualifying for an ESA Letter after your evaluation, you don't get a full refund – Certapet keeps a "consultation fee" of $35.
Certapet's online questionnaire requires your name and date of birth, which is a potential privacy concern.
Certapet's money-back guarantee only covers the consultation – you can't get a refund if you qualify for a letter and then it doesn't work as anticipated.
In short, Certapet does require a fair amount of personal information up front, and their refund policy doesn't allow you to recoup all of your money.
Pettable vs. Certapet
In many ways, Pettable and Certapet are quite similar. Both of these online providers offer a simple way to get a genuine ESA Letter if you qualify for one. The evaluation process for both services is the same, and pricing is identical. With both Pettable and Certapet, customers must complete a live consultation with an LMHP, which is required by law for a legitimate ESA Letter.
Each provider promises that their ESA Letters meet all state and federal requirements and are compliant with HIPAA, ACAA, and FHA rules. Certapet and Pettable both provide two types of ESA Letters: a housing letter and a travel letter. Each website allows you to choose which letter you want, or get both at a discounted price. Neither site tries to make extra money by selling unnecessary services like registering or certifying your emotional support animal.
There are a few differences between Certapet and Pettable. Certapet provides consultations for both ESAs and psychiatric service dogs, whereas Pettable only provides evaluations and letters for ESAs. Pettable's pre-screening quiz doesn't require you to give sensitive personal information, such as your name and birth date, but Certapet's questionnaire does.
Perhaps the most significant difference between Pettable and Certapet is how much each company backs its product. Pettable will fully refund you if you don't qualify for an ESA Letter or if your letter doesn't work as expected. Certapet keeps a $35 consultation fee if you don't qualify, and there is no mention of a refund for your ESA Letter once you get it. Additionally, Pettable provides ongoing customer support, which can be extremely helpful for customers who are anxious or worried about showing their letter to a landlord or travel provider.
Bottom Line
If you are looking for an online ESA Letter service, Pettable is the best choice. Its three-step process, competitive prices, and excellent customer service push it ahead of its competition. A full money-back guarantee for both the consultation and the letter means that you don't have to worry about losing your investment. With Pettable, you can rest assured that your ESA Letter is legitimate, and you can contact the customer service team for assistance with reluctant landlords.