Hispanic Empowerment No-Essay Scholarship
The Hispanic Empowerment No-Essay Scholarship is a $750 scholarship open to undergraduate and high school senior students.
Scholarship Award: $750
---
About the Scholarship
Access to quality education is a human right. And until that access is equally distributed, there's work to be done.
Students who are Hispanic make up more than a fifth of the total student population attending universities and colleges within the US. Around 60% of them will require financial aid and often are financially disadvantaged compared to their peers from other racial groups.
The Hispanic Empowerment No-Essay Scholarship is meant to encourage diversity in academia. This $750 award will help current or aspiring students who are Hispanic pay their tuition or student loans.
---
Scholarship Details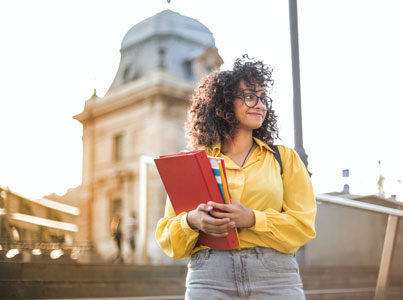 ---
Eligibility Requirements
Current undergraduate or high school senior Hispanic student

U.S. Citizen or permanent legal resident
---
How to Apply
You can apply for this scholarship on the Bold.org scholarship platform. Just set up a student profile on Bold.org and submit your application.
---
Scholarship Frequently Asked Questions
When is the scholarship deadline?
The application deadline is April 16, 2022.
What is the scholarship prize?
The scholarship award is $750.
When will the winner be chosen and notified?
Prior to the announcement date, we may contact finalists with additional questions about their application. Winners will be chosen based on the merit of their application.
How will the scholarship be paid?
We will send the $750 award check to the winner in their name.
How can I contact you with questions?
If you have any questions about the scholarship, you can email scholarships@wisegeek.com
How will my application information be used?
WiseGeek manages this scholarship with the support of the Bold.org scholarship platform. Bold.org takes student confidentiality and privacy incredibly seriously. Please refer to the application page on Bold.org for full details.
About Scholarships for Hispanic Students
The Hispanic and Latino population is growing – both within the U.S. and on college campuses. In fact, the National Center for Education Statistics saw a 148% increase in Hispanic students between the years 2000 and 2018.
Hispanic and Latino students still need support in their educational pursuits, as these minority groups tend to be faced with many obstacles to such a goal. 30% of Hispanic families have debt due to college attendance, while 42% carry student debt for having earned at least a bachelor's degree.
Obstacles for Hispanic students can come in the form of low income, rising tuition rates, language barriers, a need to support family financially, or first-generation student status. Additionally, some students are the children of migrant workers, making it difficult to complete an education. Other Hispanic students are undocumented, which can make it difficult to be accepted and/or to fund a college degree.
In an attempt to remedy these issues, there is a plethora of scholarships, financial aid, and lower-tuition schools available to Hispanic students. Of course, scholarships tend to be the most desirable of these options, as they essentially award the student free money that need not be paid back. Many donors also offer grant opportunities for Hispanic students.
While there are many general scholarships for Hispanic and Latino students, there are also several opportunities for subgroups within this demographic, including graduate students, Hispanic women, undocumented Hispanic students, and first-generation Hispanic students, including the federal governments, state governments, and private organizations.
How to Qualify for Hispanic Scholarships
While different scholarships for Hispanic students will have different eligibility requirements, many will require applicants to be:
Of Hispanic and/or Latino heritage (look to individual scholarships for specification)
A U.S. citizen, permanent legal resident, or DACA (part of the Deferred Action for Childhood Arrivals program)
Be in good academic standing (often a 2.5 GPA or higher)
Enrolled in an accredited postsecondary school, or planning to enroll within the year
Some scholarships may additionally require your resume, an essay, your scores from the SAT, ACT, or other standardized tests, letters of recommendation, and other financial information.
Pay attention to the type of student the scholarship is designed to award. Many scholarships are available to both Hispanic and Latino students. But keep in mind, some scholarship awards may be directed to only Hispanic students, while others may be directed only to Latino students.
If you're confused by the distinction, remember that Hispanic refers to someone with a background in the Spanish language. Latino, on the other hand, refers to the geographic background of hailing a heritage from Latin America. Of course, there are plenty of groups that are both Hispanic and Latino, but some are only one or the other.
As mentioned previously, you may benefit not only from scholarships designed for Hispanic and Latino students, but also from those designed for high academic achievement, other talents or hobbies, and community involvement.
How to Apply for Hispanic Scholarships
Where to look for scholarships
When searching for scholarships, don't leave any leaf unturned. There are plenty of places to look, and you may be surprised at the opportunities you find when you dig in to research them.
If you're still in high school, start by chatting with your school guidance counselor, as they can prove a valuable resource for scholarships opportunities and application tips. Peruse the U.S. Department of Labor's free scholarship search tool, the financial aid office on your college campus, and Bold.org.
Search locally, as well, as funds are often started within community organizations. Check with youth groups, churches, volunteer associations, and the library.
Types of scholarship sponsors
Scholarships sponsors may take many forms. They may include (but are not limited to) the following:
Non-profit or charitable foundations
Professional associations
Minority advocacy groups
Community organizations
Employers
College departments
Individuals
Scholarship application strategy
As there are so many scholarships for Hispanic students out there, it's important to prioritize the ones you will search for and apply to. While it's highly encouraged to apply to as many award opportunities as possible, you'll also want to capitalize your limited time on the ones that are likely to be the most beneficial to you.
Scholarships may be directed to recognize students of particular demographics, backgrounds, needs, or merits, some of which are:
Athletic performance
Musical ability
Academic achievement
Unique skills
Financial needs
Volunteer work
In addition, several funding opportunities are designed to acknowledge more than one of these factors together. Always pay close attention to the eligibility requirements, deadlines, and award amounts, to help you determine which scholarships to apply for.
Other Hispanic Scholarships
Amount: $2,008 – 2 winners, $1,004 each
Application deadline: June 30, 2021

Details: Funded by Abran Arreola, this scholarship strives to support Latinx students in their educational goals. Arreola wishes there were more diverse mentors for students of minority groups, especially those who are first-generation students or from low-income households. The award will be split between 2 winners.

Applicants can be high school or undergraduate students enrolled (or planning to enroll) in a 2-4 year higher education program. To apply, complete an essay about an important life experience that helped shape you or your community.
Amount: $500
Application deadline: June 1, 2021

Details: The Empower Latin Youth Scholarship is funded by Tomas Laurinavicius, who hopes to open opportunities for Latin youth to succeed in their careers and communities. To combat the poverty so often faced by the Latinx community, this scholarship is available to students of any educational level – and even to non-students with goals to make a difference!

To apply, write an essay about your experience as a youth of Latin American heritage in the United States, as well as your career aspirations.
Commonly Asked Questions About Hispanic Scholarships
Can I get a scholarship for being Hispanic?
Yes! There are several scholarship opportunities available. These are aimed at supporting the Hispanic community by helping you fund your education and reach your career goals.
How Hispanic do you have to be for scholarships?
You are likely eligible for a Hispanic scholarship if you have any Hispanic heritage. However, it's a good idea to check the terms and conditions of the specific scholarships for which you are applying, as some may have stipulations regarding the number of Hispanic bloodlines you come from.
Who qualifies for Hispanic scholarships?
Students of Hispanic origin, or with a Spanish language background. While "Latinx" refers to the geographical location a person comes from – Latin America – "Hispanic" refers to a person's Spanish language heritage.
Frequently Asked Questions
What is the Hispanic Scholarship Fund?
The Hispanic Scholarship Fund is a non-profit organization that awards higher education scholarships to Hispanic students. Since its inception in 1975, the fund has awarded more than $650 million in scholarships.
Who is eligible to apply for Hispanic Scholarship Fund scholarships?
Applicants must have Hispanic ancestry and be U.S. citizens, permanent residents, or DACA recipients to be eligible for scholarships from the Hispanic Scholarship Fund. Applicants must also be enrolled in an accredited college or university in the United States.
What sorts of scholarships does the Hispanic Scholarship Fund offer?
The Hispanic Scholarship Fund provides a variety of scholarships, including those for students transferring from community college, STEM majors, and graduate students. Additionally, the organization provides scholarships for specific fields, such as the Coca-Cola Scholars Program for Hispanic students pursuing business degrees.
How do I apply for Hispanic Scholarship Fund scholarships?
To apply for scholarships from the Hispanic Scholarship Fund, candidates must submit an online application along with transcripts, letters of recommendation, and other supporting materials. Typically, the application period begins in January and ends in late March.
What is the award amount for Hispanic Scholarship Fund scholarships?
The award quantity for Hispanic Scholarship Fund bursaries varies based on the scholarship program and the applicant's financial need. Some bursaries may include mentoring or internship opportunities in addition to monetary awards ranging from $500 to $5,000.