What are Common Cabin Crew Interview Questions?
An interview for a position with an airline's cabin crew can be approached, in many ways, as it is similar to any other job interview. Regardless of the type of job or what the position entails, it is extremely prudent to be prepared to answer some of the most common general interview questions. Subsequently, an interviewee should be prepared to answer customer service-related questions, as customer service is an essential part of being in a cabin crew. Interviewees should also expect more specific cabin crew interview questions that relate to the stresses of flying and reacting to specific scenarios having to do with in-flight service.
Arguably, the most common cabin crew interview questions will be questions that could be asked in almost any other interview for any other job. Expect the interviewer to ask questions such as "What is your greatest strength?", "What is your biggest weakness?", and of course, "Why are you interested in working for this company?" These questions are essentially universal and provide the interviewer with basic information before the discussion progresses. Do not make the mistake of thinking these questions are so common or obvious that preparation is not warranted: messing up one of the simplest questions could make a bad impression before the specific cabin crew interview questions are even asked.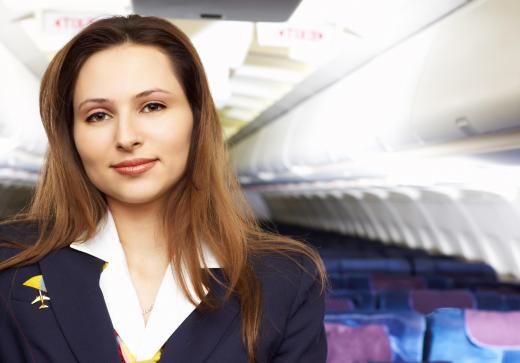 Working as a member of an airline's cabin crew is generally considered a customer service job, so it is wise to be prepared for some questions of this nature. An interviewer might ask "What are some characteristics of excellent customer service?", "How would you handle a difficult customer?", or "What steps would you take to solve a dispute between customers?" The interviewer might also ask an interviewee to describe a past experience dealing with hard to please customers or a scenario in which the interviewee displayed outstanding customer service. These questions are common during interviews for many types of jobs, but are also common cabin crew interview questions.
As an interview progresses, the questions usually become more specific. Some specific airline cabin crew interview questions might address how an interviewee would handle the stresses related to flying, how swiftly he or she is able to identify a possible problem or threat associated with air travel, or how well he or she would fit in with other crew members and with corporate image and policy. During this type of questioning, it is common for interviewers to pose a scenario and ask the applicant to describe how he or she would react. For example, an interviewee might be asked what he or she would do if a passenger refused to follow aircraft procedures, such as not smoking or correctly stowing luggage. Another possibility is asking how an applicant would handle an emergency situation such as a fire or evacuation.
AS FEATURED ON:
AS FEATURED ON:
By: starush

Cabin crew interview questions are similar to those of any job interview.

By: Pavel Losevsky

Within the United States, airline passengers and crews must strictly adhere to Transportation Security Administration (TSA) rules and regulations.

By: WavebreakmediaMicro

Applicants may be asked questions about their best and worst qualities.

By: milanmarkovic78

Second round interviews may include questions from several senior managers.

By: Andres Rodriguez

A flight attendant's duties often include serving food and drinks to passengers.