What Are Different Wall Street Jobs?
A number of different careers and job types are situated along New York City's famed Wall Street, but in most cases when people talk about "Wall Street jobs" they mean jobs that are rooted in and specific to the finance industry. The most common careers in this category usually include stock brokers, equity traders, financial advisers, and bankers. These types of jobs are all located in the financial sector of professional businesses. In most cases they're primarily concerned with the activity of the New York Stock Exchange (NYSE), though some firms may also deal with foreign stock exchanges as well. People in these positions are usually buying, trading, and selling stock, or otherwise offering instruction and advice in financial strategy.
Understanding the "Wall Street" Designation Generally
Wall Street is a term commonly used in the U.S. and around the world, and it can be used to describe the physical street, the financial industry generally, or both. The street is a major thoroughfare that runs through the financial district of Manhattan, which itself makes up the heart of New York City. It is the original location of the NYSE, and is home to many of the world's largest banks, investment firms, and hedge fund operators.
Of course, more happens on today's Wall Street than just financial trading, but these trades are what has made the street so famous. Accordingly, jobs that are described as specifically Wall Street jobs are usually related to this sector. They generally have a reputation for being high paying, but also being rigorous and requiring many long hours.
Stock Brokers
Stock broker is among one of the most commonly identified Wall Street jobs. These are individuals who purchase and sell stocks on behalf of investors, and who engage in trades with profit in mind. These individuals typically charge a fee for each transaction they initiate, and may also take a percentage of any earnings or appreciations they can garner.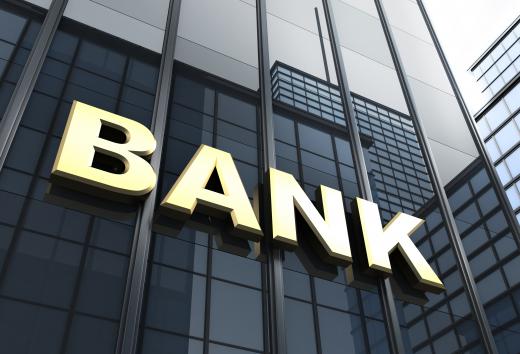 There are a couple of different positions and roles within this category of employment. In most cases, anyone can buy stocks, though most transactions go through brokers — particularly when the sales are in bulk or in various different sectors. A basic broker works on behalf of clients who more or less know what they want to do, but need an expert to finalize the sale. Brokers can usually be experts in anything from personal investing to corporate strategy and funding schemes, and are also usually trained to advise clients about the potential advantages and risks of different strategies. In many cases they also manage portfolios, preparing reports about performance and making recommendations about future investment opportunities.
Equity Traders
Equity traders are similar to stock brokers in that they usually buy and sell on behalf of investors. Instead of stocks, however, in most cases they oversee the acquisition and disposal of large company shares. A share is different from a stock in that it guarantees the financial support of the company on behalf of the investor. Shares are a type of accounting unit and can include money, stocks, and real estate.
Financial Advisers
Financial services representatives and advisers are also usually said to have Wall Street jobs. These advisers are responsible for creating investment and money management strategies for individuals and families. These strategies often involve helping people save and plan for retirement. Financial services representatives may recommend different investment opportunities to their clients, which can include stocks, bonds, and real estate.
Bankers
Individuals employed by the banking industry are also thought to have this sort of job. In most cases this is because so many banks are headquartered on Wall Street; employees often enjoy the association even if their particular office is located elsewhere. There are a lot of different jobs in this category. Basic bank managers often do things like work out payment plans, manage accounts, or come up with investment schemes, while those higher up often have more important managerial roles.
Bank loan officers process and approve individuals for different types of loans. This can also increase the amount of money that flows through a bank, and usually creates profit thanks to interest charged to customers who use this feature. Loans are typically available for homes, commercial property, business, and large purchases, among other needs.
AS FEATURED ON:
AS FEATURED ON:
By: Gary

Stock brokers, equity traders and financial analysts work on Wall Street in New York City's financial district.

By: Oleksiy Mark

Wall Street jobs include stock brokers, equity traders, financial advisers and bankers.

By: cesar

Wall Street runs through the financial district of lower Manhattan.

By: Vladislav Kochelaevs

Large investment banks have entire proprietary trading desks, known as prop desks, where professional traders invest large sums of a bank's own capital.

By: goodluz

Stock brokers may offer advise to clients over the phone, online and in person.