What are the Different Construction Foreman Jobs?
A construction foreman is a manager in charge of a crew of specialized tradespersons. There usually are several different construction foreman jobs on each construction project. Some types of construction foreman jobs are laborer foreman, concrete foreman, plumbing foreman, electrical foreman, painter foreman and carpenter foreman. The foreman must be proficient in his or her field and possess the ability to motivate a crew, anticipate workflow and direct a crew to accomplish the work according to plans and specifications.
Laborer construction foreman jobs are plentiful on jobs where more manual labor is required, such as demolition jobs. Laborers can be called upon to do various jobs, such as digging ditches, raking debris, cleanup functions of all kinds and heavy lifting. Laborers usually are less skilled than other trades, so they require more intensive management. This responsibility falls on the laborer foreman, who must make sure that there are enough laborers to complete the task and must give clear direction to his forces.
Concrete construction foreman jobs supervise the placing and finishing of concrete. The concrete foreman must make sure that the concrete to be placed is the correct concrete mix and the correct amount according to specifications. The foreman also is the one to direct the concrete workers to place and finish the concrete. Plumbing construction foreman jobs supervise the activities by plumbers who are installing pipe and plumbing fixtures, making sure that the correct materials are available to complete the job.
Electrical construction foreman jobs oversee the electricians who are installing wiring and electrical fixtures according to specifications. In addition to basic foreman responsibilities, painting construction foremen jobs make sure that the color and type of paint meet the specifications and that the quantities are sufficient to complete the job. The carpenter foreman manages the carpenters who do the woodwork on a project, such as framing and finishing cabinetry, and ensures that the wood being used is the correct type and quality.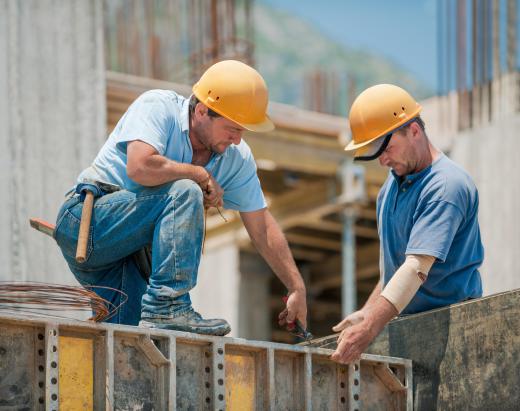 The job requirements for construction foreman jobs usually will include having a high school diploma, several years of experience in the specific trade, an ability to read blueprints and good people management and time management skills. In addition to tasks specific to their trade, construction foreman jobs require checking with the superintendent about the schedule for the day and advising of any crew issues, assigning employees to appropriate jobs, making sure that crew members have the tools and equipment needed, working the crew efficiently to meet schedule milestone completion dates, making sure safety precautions are followed and handling any emergencies that may occur.
By: Kurhan

Construction foremen need good time management skills.

By: Kadmy

Concrete construction foremen oversee the pouring and finishing of concrete on building projects.

By: michaeljung

Electrical construction foremen oversee the electricians who install wiring and electrical fixtures according to specifications.

By: Riccardo Arata

Construction foreman jobs will usually require at least a high school diploma and several years of specific on-site trade experience.

By: Andreas Karelias

Construction foremen might work alongside employees to ensure projects remain on schedule.

By: shotsstudio

A construction foreman may oversee a project from its inception.

By: Elenathewise

There are usually several different construction foreman jobs on each construction project.